Various Reviews, Awards & Praise Quotes
The Secret Life of Maggie Blake
"Marilyn Brant's latest is a romantic spy comedy with teeth starring a family who's good at keeping secrets and masking the truth under a veil of subterfuge. Maggie is a hoot, a daydreaming, Walter Mitty-ish mom of twins and wife of a seemingly indifferent CEO husband and Preston makes a believable man living a dangerous double-life and readers will love learning all the particulars about the pair. The other characters are all very interesting especially Preston's British friend Tony and Maggie's brother Armando and the villain(s) are many and varied plus the couple's twins, Taryn and Tyler are adorable. The family dynamics are rich in the mundane of real life and provide some much-needed levity when the read gets a bit dark. The plot is ingenious, a twisty turny conundrum filled with half-truths, carrot danglings and red herrings with a pace that's on an even keel until the second half then things really speed up. Fans of spy fiction, romantic suspense and of this author's other works will devour this gem of a read." ~Deb Haupt, The Reading Frenzy

"Already a fan of the author's writing, I was intrigued to see her take a stab at the romantic suspense genre. The title gave me Walter Mitty vibes and then I read the blurb and mentally shouted 'count me in!' …A lighter spy and covert ops style story that had a team full of camaraderie and a romance that looked bleak at the start, but danger brought revitalization. Romantic suspense fans should add this adventure of Maggie and her Motorcycle Maverick to the reading stack." ~Sophia Rose, Vine Voice

"The book is well written… The suspense and angst were wonderful. There were many surprises and twists I didn't see coming. In addition, the author provided lots of humor… I look forward to reading more by Marilyn Brant." ~Sue, Romance Reviewer
"The Secret Life of Maggie Blake was fantastically written by Marilyn Brant… This story kept me up trying to finish it because I had to know what happens next." ~Megan, Book Reviewer
"A fun, escapist read."
~KLV, Independent Book Reviewer
The Knight Before Christmas
"I am rarely spellbound by romance alone but this book drew me in from the beginning and it was very hard to put down… Heartily recommend this book!" ~Elin, Vine Voice 
"Austen Fans, romance fans and fans of holiday Hallmark movies will love this lighthearted tale." ~Debbie Haupt, The Reading Frenzy
"Wow!!!!! I just finished the book, and holy moly, Marilyn Brant nailed it! It's amazing. I laughed and cried! This is one of those heartwarming romance books that hits you right in the heart… This book will let you believe in love again!" ~Gina, Reviewer
"I thoroughly enjoyed Marilyn Brant's latest novel and could not put it down from start to finish. The storytelling flows beautifully throughout… The drama kept me guessing and riveted to the story. Marilyn's stories always make me feel warm and satisfied. There are so many relatable parts in the story that one can't help but be pulled into the scene. Emotional scenes, food descriptions, European references, all fabulous."  ~Vee, Reviewer 
"Love all details on the carpentry required and fun times they share with trying something new. Sibling rivalry—precious! Statue figurines—what a treasure!" ~Julie, Reviewer
"I love reading books which make me want to do things, visit places where it was set, and Oh boy! Doesn't The Knight Before Christmas by Marilyn Brant just do that? When a book is well written, you can just see everything and everybody like a film. It is set in a small fictional town, called Crystal Corners in Minnesota. The description of the town, the residents, and the town-life is so detailed in the best way (not the lengthy, annoying, overly done way) that I felt like I was one of them. I haven't felt this way reading a book for a long time. Usually, I imagine myself as an outsider, but here, I wanted to visit Ginger Mae, go and eat a piece of cake at Adele's and help out at the community center. The book makes me want to go on a road trip to Minnesota and sign up for a carpentry class. It is a love letter to Minnesota… The Knight Before Christmas is everything you need to get into the Christmas spirit or as a Christmas present." ~Míra Magdó, Obsessed with Mr. Darcy 
Holiday Man
August 2019: Delighted that HOLIDAY MAN was chosen by Wiki.Ezvid as one of 13 Diverse Romance Novels For Any Mood You're In! Check out the link for the video here!
"As I finished this story [3 am Thursday morning!] the one word that bubbled in my mind as I tried to encompass everything within it was 'honest'. Make no mistake, there are many more like, hot; sensual; funny; entertaining; warm…romantic. But somehow the word HONEST was the first to pop into my head. Ms. Brant had created these two characters with honesty of who they are within their vastly different upbringings… As these two lonely people meet and consequently embark on an affair, the author is clever in throwing them a curve ball of reality, and that's where I felt the honesty of a real life and real problems and insecurities intrude into their life and bringing this story closer to the reader. The chemistry that the author created between the two was raw and sizzled throughout the story. For that alone, this is one worthy read! ~ Melanie, Bookworm2Bookworm
"In the Holiday Man, the holidays sizzle in this cute, sexy read! I love it when the characters have that chemistry…when there fingers touch, and they feel that tingle. Shannon and Bram have that special magic between them, and they are naturally drawn together… It is a fun, quick read, and I read it in one afternoon!" ~ Candy, So Little Time
"Kindle bestseller Brant is back with another e-book exclusive that is bound to charm readers far and wide! She introduces us to Door County, Wisconsin, an unexpected place to find love, and welcomes bookworms with open arms to Holiday Quinn where there's always a vacancy. The sincere connection between the main characters will be warmly embraced and it's understood why the author mentions that 'romance is never convenient'." ~ Jaime A. Geraldi, InD'tale Magazine (a 2012 RONE Award Contestant)
"Their attraction is intense, the chemistry between them is electrifying, and their romantic interludes are full of fervent passion…but is that enough to make a serious relationship successful??? I greatly enjoyed witnessing the journey of Shannon's and Bram's relationship as they both realize that theirs wasn't merely a vacation romance. It was interesting to see how two people from different worlds, living in different towns, and desiring very different futures strive to make a long-term relationship work. I also greatly enjoyed observing how Shannon's flirtatious assistant, Jake Marcolis, or as Bram affectionately calls him, "Jake the Prick," was a source of tension and discord in their relationship. Does Jake have real feelings for Shannon or is he just wary about men like Bram??? Oh! How I love Marilyn Brant's heroes! Whether they are provoking and over-confident like Sam Blaine (According to Jane), challenging and complex like Emerson Edwards (A Summer in Europe), or passionate and magnetizing like Bram Hartwick (Holiday Man), I immediately fall for them in just a few chapters! Bram Hartwick is delicious; not only will he curl your toes, but he will melt your heart too! Festive, light, and hot – Holiday Man is a terrific and engaging contemporary romance to spend an evening with!" ~Meredith,Austenesque Reviews
"I have yet to encounter a novel by Marilyn Brant that I have not either simply enjoyed or altogether loved. With each story, I am impressed at how well scenes are described and how easily I am transported to them. Adding to my sensory experience, Brant seamlessly finds a way to incorporate music and food into each novel… Holiday Man is a hot, quick, and titillating read, sure to keep one warm during these long, cold winter months." ~Jakki,Leatherbound Reviews
Pride, Prejudice and the Perfect Bet
" 'but for my own part, if a book is well written, I always find it too short.'~Jane Austen
This is exactly how I feel about a Marilyn Brant book, I always want more! Marilyn gives us a story of an unlikely friendship with the age old question, "Can men and women truly be friends?" In her remarkable style, Ms. Brant brings to life two characters we love in literature but know very little about. Jane & Bingley are are often overlooked because they are overshadowed by Lizzie and Darcy and they DO deserve their day in the sun! Retellings and adaptations of Jane Austen classics are my absolute favorite and this story featuring our favorite main secondary characters in P&P is Brilliant! She had me laughing and was pulling at my heart strings from beginning to end! Willoughby was hysterical and Bingley stole the show! This book will have you grabbing your tattered copy of Pride and Prejudice or Sense and Sensibility just to revisit old friends. Marilyn does it again; she breathes new life into beloved characters (which is not an easy thing to do) and does it with such fun and flare. I ADORED THIS BOOK!." ~ Margie L., BestSellers & BestStellars, 5 Diamonds
"I so enjoyed this book. I loved the humour, both Bingley's and Jane's, and there were some really funny scenes, such as their surreptitious face pulling contest while having a trip out with Charlie, Bingley's summary of the artistic movement of pointillism, and Jane's feelings on Emo haikus. There are a few nods to 'When Harry Met Sally' aside from the 'can men and women ever be friends?' question, including references to a couple of my favourite scenes from the film. I also loved that fact that when Bingley's selfish, spoiled cousin Caroline comes to stay that he calls her out on her behaviour – how I would have loved to have seen canon Bingley do that! …I would definitely recommend reading this book…" ~ Ceri T., Babblings of a Bookworm
The Road to You
"In THE ROAD TO YOU, Marilyn Brant takes us on a journey that is at once nostalgic and timeless — a journey to truth, to love, and to self-discovery." ~ Lexi Ryan, New York Times & USA Today Bestselling Author of UNBREAK ME and WISH I MAY
"Marilyn Brant's beautifully written new novel takes her talent to a new and darker level. It's a heartrending tale of loss and of love, a masterful mix of mystery and romance with a good dose of a coming of age tale thrown in. Her meticulous and descriptive narrative paints a perfect picture of landscapes and scenes and gives a realistic look at a crime drama from the 70s, which just happens to be my personal hey-day and a road-trip on the historic Route 66 that will keep readers on the nail-biting edge of their seats until she decides to solve the puzzle and let her audience breathe again. Her characters are all superb but none better than her stars Aurora and Donovan who play their roles perfectly. Those of us who know her well will also see very personal qualities inside these pages and we will be yet again amazed at her talent, her storytelling and her knowledge of the human condition." ~ Debbie, The Reading Frenzy
Many thanks to B&N General Fiction Book Club Moderator Deb Haupt for selecting THE ROAD TO YOU as one of her Top 20 Novels of 2013! 
"The Road To You is a brilliant and complex mystery with just the right amount of romance. I absolutely loved every single second of this book. I felt like I was back in the seventies; on a road trip with bad disco, no cell phones, and really cheap motel rooms! The Road To You not only brought the seventies to life on the page, it also had me trying to figure out the puzzle pieces just as diligently (but not nearly so well) as Aurora. If there is one aspect of this book that is absolutely, without a doubt, fantastic, it is the mystery. Marilyn Brant's skill in devising this incredibly detailed, well thought-out and absolutely mind-blowing! I was amazed by the code in the journal, and Aurora's ability to decode it. All of the thought put in to how the puzzle fits together is absolutely astounding. You will be completely amazed by this book! I strongly recommend this read for young adults and adults alike." ~ Britney, Living Fictitiously
"What an awesome adventure. The Road To You by Marilyn Brant is a phenomenal young adult mystery set in the 70′s and I haven't read anything like it before. I was trying to describe this book to my family shortly after I read it and found I couldn't do it justice but kept telling them they should just read it. That is what I am telling you. Read it! The Road To You is a mystery that will have you thinking about things as if the story were real. I went on a road trip shortly after I finished reading it and found myself thinking about the story as I passed landmarks or other travelers. If you like a good mystery, young adult books or road trips, I highly recommend The Road To You." ~ Amy, So Many Reads
"Amazing!!! That is one adjective that I would give The Road to You, by Marilyn Brant. There are twists and turns at every road. You are caught up in the mystery from the first page.  It is a fast paced book, that will keep you entertained. Also, there is some young love involved… In the midst of peril, Aurora and Donovan find attraction sizzling. I loved the chemistry between Aurora and Donovan. Let me tell you this is no mystery book that you have ever read. It is suspenseful that the story will keep you riveted until the very end.  In fact, I read it in one sitting." ~ Susan, Cruising Susan Reviews
"This was definitely not my typical read, for sure! I knew I'd enjoy it due to it being NA/Coming-of-Age, so I decided to take the plunge on this Romantic Mystery. On top of that, it also takes place back in the 1970's, so a different era than what I typically read as well. I can tell you that I was not disappointed! Sure, there were some differences due to the time period, but the writing was so phenomenal that it didn't really make a difference! Right away I was drawn in to the story and focused my attention solely on this novel. Ms Brant did a remarkable job really developing her characters and helping the reader with being able to understand them. Not only that, Donovan is to die for. I wasn't sure what to expect with him, but I really adored him! …I cannot wait to get my hands on some more of her stories. Fabulous job, Marilyn Brant." ~Emily, Novel Seduction
"This is one of those stories that surprises you. One that you don't know right away will end up completely capturing your attention and holding it, not because the synopsis wasn't good or because you weren't expecting it to be something you would like but rather it is unlike most books out there. One big puzzle just waiting to be dissected and then put together again. One big ball of mystery that is just as intriguing as it can be frustrating. Little clues and breadcrumbs left throughout the pages of a journal from a brother gone missing years earlier. The fact that this book, while recently written, takes place during the late 1970's is even better because it truly made it stand out, it truly made it something you don't see or read every day and it completely made the story being told, utterly believable." ~Ali, My Guilty Obsession
"I need to say that this book is one of the best books I read this year. And after I read the synopsis I hoped that would be good, that just not the synopsis is good but the book itself, cause I bumped into books that appeared to be nice and interesting and weren't. But this is not like that, this book was up to my expectations and kept me glued to the story from the first page to the last. [The book] is so good. I have no words to describe it and you have to try it. Read it, cause is good, is interesting, is different, is full of good stuff, good characters, and the ending. And a huge plus: it has no love triangle. For me that counted. So read it, and I'm sure you'll love it, and you will think, at the end that this people, this characters are like friends. For me they are, and somehow I'm sad that it ended." ~Pzzike, Pete de Violet
"This book was one of the best I have read. It has Aurora who loves to solve puzzles and I could connect with her on that. I love puzzles, she's just smarter than me. I just want to say that if I ate as much as Donovan does in this book I would be bigger than a house. I loved the music in this book because it was music I grew up listening to it. So it would bring back memories for me… This book was one that kept me guessing and I just wanted to hurry up and read it so I could get to the end to see what was going to happen. I couldn't do that because if I did I would've missed a great adventure and it would be like bypassing Route 66 and driving the interstate. When you take your time to visit great places then you get a better meaning of everything around you. Yes there were some sad times and times that really got my heart to racing but there were those moments that caused me to just sit back and enjoy the story." ~Crystal, Goodreads
"This is not one of my usual reads but it is definitely something I'm interested in. Have you ever watched National Treasure? I've always wanted to be able to solve mysteries and this book took me on a journey that I know I would never experience in my own lifetime. This novel is based in the late 1970′s, and though I don't usually read books that are based in the past, I really enjoyed getting a glimpse of life back then when pay phones were used instead of a mobile phone and the only search engines they had were the use of a library and not a simple Google search. With this book came twists and turns and a whole lot of code cracking that I found to be fun and interesting." ~Emily-Jane, Emily-Jane's Book Corner
"The Road to You is so good! …Aurora and Donovan are both likeable characters, which is a good thing because so much time is spent on the road with just the two of them. The mystery of what happened to Gideon and Jeremy is exciting and kept me wondering right up until the very end. I didn't want to put The Road to You down until I'd finished it, and when I did have to put it down, I often would find myself wondering what would happen next. The Road to You is a satisfying YA/NA mystery with a touch of romance." ~Jenna, Rather Be Reading YA
"The Road to You by Marilyn Brant is a wonderful coming of age story riddled with love, loss, heartbreak, devotion and forgiveness… I loved this story for many, many reasons! It was well written, had great character development, a wonderful plot, and many awesome descriptions of scenery that actually make you feel you are traveling along historic Route 66. Since the book is set in the 1970s there are many references to places, songs, cars etc. that younger readers may not have the slightest idea what the author is talking about but the storyline is still every bit of mysterious and mesmerizing." ~Jessica, Amazon/Novel Words
"I can without a doubt say that I thoroughly enjoyed this book and was hooked on their mystery and their road trip to finding out the truth, Nancy Drew watch out (just don't let Aurora hear me calling her that lol)… I really loved the different places they visited and the addition of having route 66 which has always been a mystery on itself was an added bonus. Hitting all the small towns from the mid-west to the south west they go about discovering crazy corruption through several states all while trying to find their brothers who were alive in their minds because they were in contact with them, or at least they were with Aurora's brother Gideon. All roads lead to finding out the truth and their brothers… If you love a good mystery with a lot of excitement and a little bit of romance then you will definitely have to read this book. I couldn't put it down and was mad when I had to go to sleep and I wanted to know what was going to happen next, very addicting." ~Cathy, Addicted to Books
"I really did love the mystery throughout the whole book. I kept wanting to follow along to find out what really did happen to Gideon and Jeremy and I kept wondering…is there any way that they are actually alive?! This book was definitely a page turner… If you really enjoy YA books, this one has a really great mystery that keeps you thinking from beginning to end." ~Leary, Three Girls and a Book Obsession
"I actually liked this so much more than I thought I was going to. I went into it expecting a typical New Adult novel, and got something completely different – a book with a lot of heart and a good mystery, too. The mystery behind this whole story was incredible – I mean, I loved the clues that Gideon left for Aurora to figure out, and how it inevitably led them on a road trip down Route 66… If you're looking for something a little different from the norm in the New Adult genre, you should definitely pick this one up! I know I, for one, will be looking for more of Marilyn Brant's work!" ~Bree, Coffee BeanBookshelf
"I love the chemistry between Aurora and Donovan! Aurora has always been attracted to Donovan, and he's always felt there was something special about Aurora, but in the past she was too young. Spending so much time on the road together only intensify these feelings, but they need to put them aside to concentrate on the task at hand; finding Gideon and Jeremy. It was fun trying to figure out the mystery with the clues in the journal and the information Aurora and Donovan picked up along the way. The Road to You kept me guessing all the way to the end! I loved The Road to You! I found myself wanting to listen to some of my favorite bands from the 70's! I definitely would recommend this one!" ~Candy, So Little Time
"Another fantastic book from Marilyn Brant. Her books never fail to pull me in and make me want to be a character in the story. While the characters in the story are young adults and I'm no longer at that age, they were still easy to relate to and lose myself in. The nostalgia of the 1970s was a fun addition to the book and made me spend some time thinking about how much more innocent we were and willing to let our young adults be more independent (it would be a little less realistic today for a 17-year old to head off with a young man to tour colleges). The mystery of what had happened to the brothers kept me stealing off to read a few more pages. Marilyn Brant's books always tend to stay with me for a while after I read them, either by wanting to relive the story or just because the characters made me think about my own life. This book is no exception. I'd like to climb back into it and read it again and again (only with a touch of amnesia so it can be like reading it the first time!)" ~Marijayne, Amazon
"What a surprise this book was! I went into it expecting one thing and getting another – and it worked. It really, really worked. Set in the late 1970's, The Road To You is almost entirely mystery-focused, with twists and turns, coded clues, and all sorts of breadcrumb trails to follow… A thoughtful and well-written read." ~Janice, The Demon Librarian (GR comments) Also from Janice on the DL website: "The Road To You is a thoughtful, well-crafted and intelligently-written read, and I enjoyed every page of it. It's definitely a book I'd recommend."
"I really enjoyed this story! It took me back to a day when I used to crave mystery books like, Nancy Drew and The Boxcar Children, and added the element of romance that I crave today. It's the perfect mix for anyone searching for something a little different than your typical boy meets girl romance. The pacing was perfect. The suspense was just enough to keep the pages turning but never too much that I got overwhelmed or confused by the plot. Both of the major characters were beautifully written. Aurora was a strong female lead, who was willing to take command, but was never overbearing or annoying the way that some heroines can be. And Donovan…*sigh* the perfect mix of tough and tender to make this girl's heart swoon!" ~Nat, Seeking Book Boyfriends
"I fell in love with the plot, the clues, the suspense, the thrill, the car chase, and not to mention – the twist. It may have started out slow, but when it the story finally picked up, I was HOOKED. It wasn't just a love story, it was an adventure that had me on the edge of my bed, with my pulse way beyond normal, and my brain working overtime – what will happen? Are Gideon and Jeremy alive? Will the bad guys catch up on them? It may have been set on somewhere in the past but Marilyn Brant will take you on the ride of your lives." ~
Charlene
, 
Book Freak
"The best of this book is the mystery. This book branches out from the typical New Adult contemporary romance genre and gives us a New Adult Mystery. The mystery here was so… UNEXPECTED. Your inner Sherlock won't work here, because it's like the author structured this book in a way that you'd only find out what was happening when the author wanted you to find out. Each little mysterious aspect was amazing when discovered… Overall, this was a great New Adult/Young Adult read and a very believable and complex mystery. I recommend this book to anyone who loves books about road-trips. Definitely a great read if you're feeling adventurous. I can't wait to read more from this author." ~Marianne, Boricuan Bookworms
"One thing I love about romance novels is feeling the tension built between the two main characters over the course of the book. One of the things I love about mystery novels is discovering the clues along with the characters as they progress through their journey.The Road to You is a romantic mystery novel that captures the best elements of both genres perfectly. Brant creates an exciting and compelling novel by making you care about the characters from the beginning…Brant doesn't allow anything to happened until it's absolutely supposed to. And, woven throughout all of the tension is a multi faceted and complex mystery that once solved, leaves you feeling shocked, but satisfied and you can't ask for anything more out of a good mystery." ~Sydney, The Peasants Revolt
"The Road to You was my first experience with this author and let me tell you, it kept me riveted from the very first page until the last. If you came hoping for romance, you will get  a taste, but it most certainly isn't in the forefront, and you won't see it until the end. This is a story of right and wrong, of friendship, of loyalty. Get ready to take a trip down memory lane, to a time long forgotten, yet still in the hearts of many… The depths and layers this story takes you to will have you guessing the outcome until the very end. I loved that I wasn't able to guess from the beginning how it would all end. There was nothing predictable about The Road to You at all! 4.5 star read for me!" ~Sarah, Books to Breathe
"One thing that I particularly liked about this book was the fact that it was set in the late 70s. We are so spoilt with the internet and the availability of information these days and it really gave the book a different feel from something set in contemporary times, with the characters having to look in phonebooks, go to libraries to look at microfiche and make physical visits to places rather than just ask Google. There are a number of references to Nancy Drew in this book, and I felt it was an apt comparison, it was very like a Nancy Drew, but for an older audience." ~Ceri, Goodreads
"From the dark wood paneling, muscle cars, classic rock, pay phones, and TV antennas, Brant captured the tone and mood of the late 70s in such a way that I thought I truly was transported back in time. Couple this with the amount of research conducted to write such a realistic story, and I was wishing this were a true story, one I didn't want to end… There are several attributes I have encountered with each Marilyn Brant book I have read: true-to-life characters—perfectly flawed and dynamic—descriptions that easily transport readers to the present setting, a gamut of feelings felt, analogies and other figurative language that connect to the plot on several levels, all woven together so masterfully it creates a remarkable web, sure to trap any reader. Every facet of 
The Road to You
 was meticulously executed. If you enjoy reading about days of old, self-discovery, travel, romance, mystery, or the new adult genre, I can't recommend 
The Road to You
 enough." ~
Jakki
, 
Leatherbound Reviews
"The Road To You by Marilyn Brant was a unique mature YA story that was filled with suspense, twists and turns, heartache, loss, love and learning to accept oneself. The story is set in the 70s and it is so well-researched and so well-written that within the first few pages you will travel back in time and be emerged into a different world. A time full of contradictions – disco & rock, sexual revolution & old-fashioned values, emancipation & traditional expectations, peace & war. Definitely not an easy time to grow up… The characters were very well-developed and felt real, while being very unique… I loved how this story kept me guessing and kept me at the edge of my seat. I tried to solve the puzzle myself, trying to learn as much as possible. Though I might have guessed correctly a few times, the book never allowed me to get ahead of Aurora and Donovan, therefore making me experience the twists and turns through the characters. I loved that. Often you'll know at the beginning of the book who has done what. Not so here." ~Paula, The Book Enthusiast
"I love a good mystery and The Road To You is one of the better mysteries that I have encountered in a long time. This book will really keep you guessing. This book takes place in the 1970s and Aurora and Donovan's older brothers have been missing for over two years. Aurora finds her brothers journal out of the blue and as she starts to go through it she noticed that there are clues hidden throughout. I love that concept. Puzzles and scavenger hunt type mysteries are always really fun for me to read about. And this is a very intricate mystery. I was trying to solve it right along with Aurora and Donovan and I couldn't crack it before they did. Marilyn Brant did a really great job with this book." ~Michelle, Book Briefs
Pride, Prejudice and the Perfect Match
A Top 100 Bestselling Book on both Amazon *and* B&N, as well as a "Romantic Comedy" bestseller!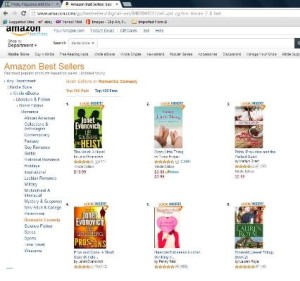 "Brant couldn't have done a better job at pulling me into the story and keeping me hooked until the end. I loved how her work was different enough that I felt really out of my element at first, but then brought back to the themes of compassion, forgiveness, and love that really hold Darcy and Elizabeth together. This was an amazingly smart move that left me more than satisfied at the end of this work. In fact, I liked this book so much that I delayed watching the season 3 premiere of Downton Abbey!! (This is a huge deal.)" ~ Kimberly Denny-Ryder, Austenprose
A HUGE thanks to everyone at Austenprose for choosing PRIDE, PREJUDICE AND THE PERFECT MATCH as the #1 Austenesque Contemporary Novel in their Top Austen-Inspired Books of 2013 List!! I'm thrilled! 
"This is a beautifully written book! Author Marilyn Brant takes the very modern day subject of internet dating and explores the possibilities and downfalls, all while giving great hope and clarity to the ideal of "the perfect match". The wonderful moral shines through the when true love is found, it can move mountains of difficulties and issues. This is a fine read for anyone who believes love really can conquer all and happy ending are still possible!" ~ Darin Godby, 5 Stars/Crowned Heart Review, InD'tale Magazine
"Looking for an Austen-Inspired novel that's fast-paced, modern, and endearing? Well…the results of your online dating profile show that…Marilyn Brant's new novel is the "perfect match" for you! Heart-warming, tender, and sweet – Pride, Prejudice and the Perfect Match is a lovely tribute to Jane Austen and her masterpiece." ~ Meredith, Austenesque Reviews
"I love a story that gives me a warm fuzzy feeling inside, and that's just what Pride, Prejudice and the Perfect Match did to me! I LOVED it! It's a perfect book to curl up on a couch with!" ~Candy M., So Little Time
"Ms. Brant cleverly takes some of the bones of the original, shakes them up, guiding them to their perfect landing and giving us a story that is all her own. The characters, main and secondary, were three-dimensional to a point that they might have been your neighbors or your friends, that's how real they felt. The plot was intriguing and kept you in anticipation of the final reveal, which kept the story moving and entertaining… Pride, Prejudice and the Perfect Match is a great tribute to Jane Austen by Marilyn Brant and it will have you sigh as much as the original, if not more so. Highly, highly recommend you get it! Promise you'll love it!" ~Mel, Bookworm2Bookworm
"Marilyn Brant has created an updated version of Pride and Prejudice by taking the personalities of Jane Austen's most beloved characters and resurrecting them into a modern-day romance. Just like the original, the path to true love can be a little rocky and you will find yourself wondering right up until the end if this Miss Bennet and Darcy will, in fact, actually get together. A creative and clever tale sure to strike a chord with Austen fans."~LEK, Chicklit Club
A Summer in Europe
"Reading a Marilyn Brant book is like eating a piece of rich chocolate – it gets you excited, it's deliciously satisfying, and it leaves a smile on your face after you've finished it!" ~Simone Elkeles, NY Times & USA Today bestselling author of the PERFECT CHEMISTRY series
"Brant's newest…distinguishes itself with a charismatic leading man and very funny supporting cast, especially the wonderful elderly characters with their resonant message about living life to the fullest." ~ Publishers Weekly
"Marilyn Brant's A Summer in Europe is a wonderful tale that captivates readers as Gwen, transformed by her surroundings, undergoes a change of heart about life…and love." ~ Doubleday Book Club
"Brant's charming and engaging tale will allow readers to immerse themselves in the magic and beauty of Europe along with the characters. Although the descriptions of the scenery are amazing, the development of the characters and their unique personalities are what really make this novel shine. What an enjoyable escape!" ~ Melissa Parcel, Romantic Times Book Reviews, 4 Stars
"…there is something to be said for a life filled with unexpected surprises, especially if they come in the form of a sexy British physics professor named Emerson." ~ John Charles, Chicago Tribune
"How I wish I were on this European tour with Marilyn Brant's winsome, wonderful characters. I loved every minute of this delightful novel, from the breathtaking sights to the deliciously described food to the thrilling new experiences." ~ Melissa Senate, bestselling author of The Love Goddess' Cooking School and See Jane Date
"A Summer in Europe is Brant's best book yet. A thinking woman's love story, it swept me away to breathtaking places with a cast of endearing characters I won't soon forget. Bravissima!" ~ Susan McBride, USA TODAY bestselling author of Little Black Dress and The Cougar Club
"Marilyn Brant has done it again: she has crafted a warm and wise novel filled with characters that live on in your imagination. Make sure your passport is in order. After reading A Summer in Europe you'll want to book your flight immediately!" ~ Laura Moore, national bestselling author of Remember Me (The Rosewood Trilogy)
"A Summer in Europe is a love story told with grace, humor, and the finesse established and new Marilyn Brant readers will enjoy for years to come." ~ DA Kentner, The Readers' Writers
"This is a brilliant piece of contemporary literature, it's timeless in its essence. Ms. Brant brings us a rather later that usual coming of age in this story of a woman who's life has been ruled by loss and fear, then she gives us the hope that this new woman can come out of her chrysalis intact and ready to take on her whole new world. She does this with her customary prose like dialogue and a narrative that will take your breath away as she takes us through Europe that can vividly be seen in your mind's eye. Her characters are superstars, every one of them…This is your first must read of December and you'll want to share with the people who mean the most to you." ~ Debbie Haupt, The Reading Frenzy and B&N General Fiction Book Club moderator (also chosen as one ofDeb Haupt's Best 20 Novels of 2011)
"Let me start by saying that I LOVED this book! …Brant's writing is smart, quick-witted and her character development is swift and detailed." ~ Andrea, Great Thoughts (also chosen as part of the Great Thoughts Top Books of 2011 list)
"What an incredible journey! I truly love Marilyn Brant's style of writing – it's lyrical, descriptive, and magnetizing. Like a well-blended smoothie, Ms. Brant is always able to strike a perfect balance between the different components and elements of her story. Infusing travel, self-discovery, history, comedy, philosophy, psychology, and romance in her story, Ms. Brant capably whips together a tale that is as creamy and decadent as Italian gelato. I must mention how excessively I enjoyed ALL the characters of this book! Gwen is likable and endearing, Emerson is filled with a hefty dose of attractiveness, boyish charm, and complexity, Thoreau kept things interesting with his mind games and provocations, and Aunt Bea and all her sassy friends are just a hoot! Theses are the sort of characters I wouldn't mind spending more and more time with! If you are in the mood for a vibrant, flavorful, and stimulating European adventure, I suggest you pick up a copy of A Summer in Europe! Fans of E. M. Forster and Jane Austen will find much to delight in with this clever work of fiction. I highly recommend!" ~ Meredith, Austenesque Reviews, 5 Stars and the Winner of the 2012 Austenesque Award for "Favorite Non-Austenesque Novel"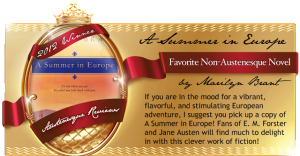 "A Summer in Europe by Marilyn Brant is the perfect book to curl up with on a cold winter evening… Brant writes knowledgeably about the sights, smells and sounds of the places the tour visits. Her love of Europe oozes out of each and every page, and one can only hope that she took a long time researching this book by visiting them all!" ~ Pamela Kramer, National Book Examiner, 5 Stars
"I absolutely loved being transported to Europe and I felt as if I had the opportunity to live vicariously through the characters in this novel…I thought Ms. Brant did a wonderful job in bringing these attractions (both the big and small ones) to life. It is apparent to anyone who reads A Summer in Europe that the author not only has traveled to these places, but that she holds them near and dear to her heart. Another fun part of A Summer in Europe were the characters. Many of the people in the story were indeed "characters;" and I was became quite fond of them (all except for Gwen's stodgy boyfriend.) I adored Gwen's aunt and her very funny friends, and I appreciated how Ms. Brant portrayed many of the elderly characters. She made them very wise, but she also made them authentic…with real feelings and desires that individuals of any age could relate to… However, it was Gwen's personal growth that really made the story stand out to me. I always liked Gwen, but by the end of the novel, I loved her. Throughout the course of the story, Gwen managed to really begin to understand herself and her desires. She saw the world in a new light and I think she realized her place in it. Gwen's personal and spiritual journey were very uplifting and hopeful, and her story just made me feel happy." ~ Julie P., Booking Mama
"I've thoroughly enjoyed all of Brant's books, but this is my favorite…what I loved most about the book is Brant's prose. Her first book was According to Jane, in which the main character has Jane Austen giving her advice. Perhaps Brant channeled a bit of Jane herself. Her prose is Austen-like–observing, witty and charming–making this a joy to read." ~ Edie Ramer, author of Cattitude and Dragon Blues
"Marilyn Brant is a gifted writer who brings you to Europe.  Really. Her descriptions engage the reader enough that the aroma of the regional cuisine will make you hungry.  While visiting the sites, you'll feel the charge of discovery and the gift of the experience. And through her characters, the author shares a love of life and its many experiences, showing the reader that sometimes we can accept what we have or find happiness elsewhere." ~ Eleanor Anders, Books…Looks and Takes
"A Summer in Europe, by Marilyn Brant, is a beautifully written story of a young woman's self-renaissance…The author's great love of Europe and her extensive travels there are evident in her delightful, irresistible descriptions of the beauty and bountiful offerings to be found throughout the European continent. The subtle, insightful way with which Marilyn Brant has crafted Gwen's story will make you feel as if you are experiencing everything right beside Gwen. You will breathe the air, inhale the intoxicating aromas, and be enchanted by the art and music and flow of languages. You will taste all the fantastic flavors of gelato, savor the linguine with meat sauce and the variety of quiches, and feel lust in your heart for the fabulous pastries and artisan chocolates… Like me, you may never see your travel dreams come to fruition, but thanks to Marilyn Brant, you will always have the pleasure of A Summer in Europe." ~ Virginia Campbell, writer,Romance at Random's "Fabulous Food & Fantastic Fiction"
"After enjoying Marilyn Brant's last two books, I was excited to read A Summer in Europe. I am happy to say her books just keep getting better. I was completely hooked as soon as I started reading and thoroughly enjoyed the evolution of Gwen, from a shy and reserved teacher to someone who, by the end of the book, has really come out of her shell and understands about living a passionate life. An extremely delightful and satisfying read." ~Leah E. Krygowski, Chicklit Club, Rating 8/10
"This is a romantic book, and I thoroughly enjoyed it. It's definitely one to recommend to your girlfriends!" ~ Karen, Practical Frugality
"This is a fabulous story of self-discovery, replete with awe-inspiring descriptions of historic places and unique ideas that spur the heroine from her comfort-zone into a new realization. Marilyn Brant has outdone herself this time. Highly recommended." ~Gwynlyn Mackenzie, Goodreads
"This is a fun story about a woman's tour of Europe and exploring more of her life along with a chance at a new romance. This book is like taking a warm summer vacation without leaving your couch!"~ Amy Phelps, Parkersburg News and Sentinel

"…this is a book full of incredibly rich language and beautiful layers of story. It's a story about relationships and families of many types and people who have chosen, or had chosen for them, different kinds of families. It's about epiphanies and those moments where we find ideas laying just ahead of us around the corner. It's about learning about life from the people around us and seeing the world through their eyes and knowing that your understanding is richer for it. It's about life and aging and questions of death. It's about food and travel and coming to terms with the 'shoulds' in our lives and making new plans for ourselves when we don't like the ones we've made. It's Gwen's journey but it's the journey of everyone in this story in some way and I think you'll find that it's your journey, too."
 ~ 
Stephanie Gurnsey Higgins
, 
Richmond Romance Novel Examiner
"If you've never read anything by Marilyn Brant before you need to! A Summer in Europe is another wonderful example of her talented writing skills.  Marilyn grabbed my attention and kept me engaged throughout the novel. I didn't want to put it down. The story flows smoothly and effortlessly making it easy to read. My favorite aspect of this novel was the escape I felt while reading it. It's almost as if I was in southern Italy and on a much needed vacation! In short, this is a great story that engages the reader and leaves you wanting more from Marilyn! Her characters are charming and interesting. They come alive in your imagination due to Marilyn's ability to create well developed characteristics.You should read it and then check out her other novels!" ~ Tiffany, A Cozy Reader's Corner Reviews
"A Summer In Europe is an exceptional novel, to say the least… I was completely captivated, and couldn't put it down. The characters are colorful different, and altogether, likeable. While reading–into all hours of the night–I felt like I was traveling through Europe myself, as I saw the sights, ate the food, and encountered many delights along the way. This fresh story, set in the most breathtaking and beautiful places of Europe, certainly is a page turner, charming, beautifully written, and realistic. A Summer in Europe by Marilyn Brant is a lovely story, and a must read!" ~ Julie, Chick Lit Girls
"Ah yes….I enjoyed the story whole-heartedly….take one part Tuscan sun with a life built from the ruins….shake violently and let the pieces fall where they may. The end results may not be perfect, but they are perfectly enjoyable leaving a story that will resonate with both women achieving their dreams now as well as those barely able to glimpse it for the forest standing before them. It's about life. It's about love. It's about taking the chances we are presented and making the most of the experience we gain. It's about every one of us at one time or another and therefore allows us to see just what can happen when the other shoe drops without someone in place to catch it; sometimes it ends in a clatter….other times, it nets us a prince. Recommended read for older teens through adult readers….it does get senseous a time or two but in a purely classy way.  A book I know I'll be recommending time and again…and hopefully, you will be too." ~ GMR, Satisfaction for Insatiable Readers, First Review of the Year Award
"A Summer in Europe by Marilyn Brant is the perfect Holiday read…Gwen's story is all about appreciation. Appreciation of herself, her sometimes crazy family, of others (both good and bad), but mostly appreciation for every moment of life we are given. And that's something we all need to remember, because it's like Marilyn's book says, 'It's not where you go.  It's about what you take back with you.' " ~ Jill Thomas, Just Around the Writer's Block
"From this opening paragraph, Brant's story has already prepared the reader for a trip with a cast of zany, intriguing and never boring characters… Brant really makes you feel as if you're in the moment with Gwen, her way with description is wonderful. A Summer in Europe is highly recommended. Lovely locales, interesting people, and a woman who learns about the fragility of time and life." ~ Reader Girls
"The strong cast (including European locations) provides an engaging coming of age contemporary tale. Character driven, readers will feel they are on tour with the S&M club enjoying the sights and the antics of Thoreau and especially Emerson. With homage to Andrew Lloyd Webber, E. M. Forester, and physics; Marilyn Brant writes an engaging tale of a woman who starts off chronologically as thirty, intellectually middle aged and experimentally a young teen." ~ Harriet Klausner, Mainstream Fiction
"If you ever wanted to take a tour of Europe and just never made it, this is the book for you to replace that urge. A Summer in Europe takes the reader for an insightful ride… I loved the book for the story but also for the descriptions of all the stops made along the tour. The way the author described each made me feel like I was there." ~ Kathleen Kelly, CelticLady's Reviews
"A Summer in Europe was truly an enjoyable novel. I found Brant's storytelling supreme, her characters real, and Europe breathtaking. In addition to the lovable characters, it was the author's picturesque language that had me experiencing Gwen's awakening and Europe first hand. Brant's ability to take the smallest details and tie them into the major themes and motifs, as well as her perfectly chosen descriptions, wove this story together like one of Zenia's finely knitted scarves. I was not ready to say good-bye to my new friends or to unpack my bags and put away my passport. In doing so, it would mean my summer in Europe was over, and while entertaining and introspective, A Summer in Europe was a journey I did not want to end."
 ~ 
Jakki
,
Leatherbound Reviews
 (Watch Jakki's 
VLOG
 for the book, too!)
"A Summer in Europe is an intelligent novel infused with lyrical prose. I don't know how it's possible for an author to cover so much in one story and execute it so well. Brant glides from one country to another and from one topic to the next so smoothly that the reader is able to grasp all the places and topics explored. The story is rich and full of details, it's a book to be savored and re-read so you can get something new out of each reading experience." ~ Nicole Basaraba, Uni-Verse-City
"I enjoyed this book. It had all the things I liked about Mrs. Brant…humor, interesting characters, and a scenic location. I was laughing at the antics of Gwen's Aunt's S and M club… A Summer in Europe is a breathtaking trip that will have you wanting to book yourself another trip with Marilyn Brant as soon as possible!" ~Cheryl, Cheryl's Book Nook
"As the winter weather takes hold, this is a great way for you to lose yourself in an adventure not only for the beauty of Europe, but the beauty of a great story." ~ Becky, Brodart Vibe
"A Summer in Europe is an armchair traveler's dream come true. Brant describes the sights, sounds, and smells of Europe with incredible finesse and really brings her settings to life for the character. Her writing is really wonderful, and her descriptions and attention to detail leave the reader immersed in their imaginations. But Brant has a secondary message to those armchair travelers in her novel – leap at the chances life offers you. Budgets, schedules, and other difficulties in life can prevent us from seeing our dream destinations in person, but if the chance falls in your lap like it did into Gwendolyn's, make the most of it…A Summer in Europe is an entertaining, breezy read that's perfect for the summer. The lovely descriptions will feed your desire to travel, while also being incredibly satisfying."
 ~ 
Swapna Krishna
, 
S. Krishna's Books
"This is truly a well-written romance that beautifully proves that time is fluid, and that no matter what, you can ALWAYS start on a brand new chapter of your life and find your soul mate in the oddest of places. An invigorating and inspirational plot blended with humor, fun and romance – a perfect recipe!" ~ Amy Lignor, Goodreads
"Oh this book is like sitting in the sun in the middle of a Roman piazza while eating a big scoop of gelato. It's lovely and something to be savored…Sigh, this was so good; like a vacation in a book!"~ Meg, A Bookish Affair, rating 4 1/2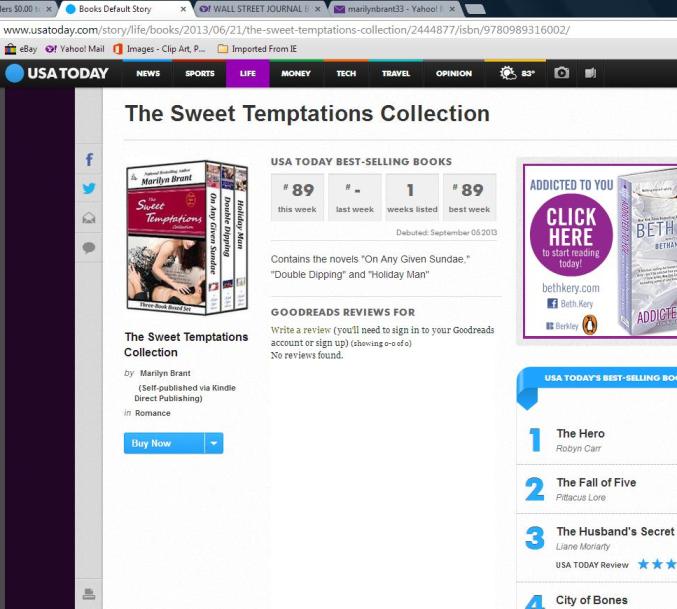 Double Dipping
"Brant has provided a delicious story I devoured in one day! I just could not put down this book! Brant has an amazing ability to create real characters with real flaws, from Cait and Garrett's relationship issues, which are based on previous experiences, to snooty school board members, to loving family members who face their own challenges. I can truly picture these characters in real life. Not only are Brant's characters believable, but so is the conflict… Brant's creativity in concocting her own ice cream flavors and tying them into the story is also noteworthy. While reading this book, I often found myself craving ice cream. Definitely worth the price of the book and the pints of ice cream one will consume while reading!" ~ Jakki, Leatherbound Reviews
"As her previous ebook, On Any Given Sundae, this book has all the ingredients that make Marilyn's stories shine. A strong, independent woman (which I love), a smoldering, sensitive hero (what's not to love?), and so many mouth-watering food references you'll want to grab a pint of your favorite before starting the book! …I'm going to tell you the secret of Marilyn's writing. You ready? She's real. She writes REAL stories. She writes REAL characters. Any one of her heroines could be your best friend, your sister, you or me. Her stories are so genuine, in fact, I find myself forgetting I'm reading a book. Forgetting these characters aren't my real-life, flesh-and-blood friends. And long after the last paragraph, I find myself thinking about them and wondering what they're doing." ~ Jill Thomas, Just Around the Writer's Block
**A 2012 International Digital Awards Finalist for Best Contemporary Novel!**

"Marilyn Brant has written another sweet story! You might want to grab a bowl of ice cream while reading this one! …There are some pretty hot scenes in this story. It was fantastic! It had me laughing and on occasion crying, I love it when a story does that to me. I didn't want to put it down!" ~ Candy M, So Little Time…
"Marilyn Brant has done a great job with "Double Dipping." The writing is clear and crisp, the chemistry between Cait and Garrett hot, and the ice cream is drool worthy… The intrigue was also written very well and I was kept guessing as to whom the culprit might be. I am eagerly looking forward to Ms.Brant's next release!" ~ Book Lover from GA
"Marilyn Brant has done it again with Double Dipping. And by "it," I mean thoroughly entertained and impressed me. The joy inDouble Dipping is in Brant's ability to create real characters with real-life flaws… In addition to the absolute truth that Brant brings to her stories, I thoroughly enjoy her ability to make her tales family oriented… And, on top of all of the things that I've already mentioned, Double Dipping is witty and fun! And it has loads of ice cream! Who wouldn't love a book like that? This was a book that I couldn't put down. I really enjoyed it, and $2.99 is a steal for this story."
 ~ 
Romantic Love Books
"I loved, loved, loved this book! I've thoroughly enjoyed every book Ms. Brant has written, and Double Dipping is no exception. It's sexy, suspenseful fun, and Ms. Brant writes relationships so well that I want to keep reading about her characters long after I've finished the book! …Add in smart dialogue and delicious imagination (warning: you'll want ice cream while reading this book!) and Double Dipping is an absolute keeper." ~ Robin
On Any Given Sundae
An October 2011 "Hot Pick" from Romantic Times Book Reviews:"You'll want to read it for the humor and great characters and a plot that's sure to leave you smiling."
"This is a charming tale of the popular jock and the shy bookworm, both trying to outlive their high school personas and prove to each other there is more to them than meets the eye. This is truly a root-for-the-underdog, feel-good story and a joy to read." (LEK) ~ Chicklit Club's Digital Domain
"Marilyn Brant's On Any Given Sundae is sweet, sexy, and super fun. I loved the story line, I loved the characters, and I loved the setting…I really, really loved the role played by each and every character in this story. Brant has filled On An Given Sundae with an awesome, unique and fun group of secondary characters, too…and has created a full list of vivid and funny extras. On Any Given Sundae is a great read, especially for the price! ~ Romantic Love Books
"I absolutely positively ADORED this book. From beginning to end, it kept me grinning like an idiot, giggling, and biting my lip in anticipation at the characters. You gotta give credit to Marilyn Brant for coming up with a cast of characters that you might be able to find in your own hometown… I loved this book so much I immediately went to Amazon and bought 2 of the author's other books. I have no doubts that they will be just as funny." ~ Laci, Romancing the Book, rating: Magnificent/"Rose that Rules All"
A Barnes & Noble and Amazon Top 100 Bestselling Book!!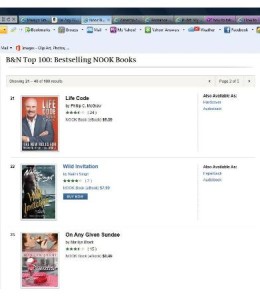 "I truly, honestly, thoroughly enjoyed On Any Given Sundae. It has the perfect amount of all of the right stuff. The romance, the laughs, the poignant moments, the food–I fell so in love with these characters and their story, I literally felt invested in their HEA. The secondary characters, the atmosphere, the love and loyalty of all of the characters combined–it is a delightful cocktail that will make any romance lover smile all over." ~ Kristal, Bookworm2Bookworm
"It's no big secret that I am a fan of Marilyn Brant's. I find her witty, charming and downright delightful, as is her writing. Her words are as rich and mouth-watering as Crème Brule, more tangy and saucy than Lemon Chiffon Squares and this book was harder for me to put down than my beloved Double-stuffed Oreos. When a character is described as being like, 'the smell of bread dough rising, like thick, chocolate icing on a fresh pastry, like powdered sugar on a Mexican wedding cake', I'm hooked. Seriously hooked. And if you think this review is getting your taste buds dancing, just wait until you read On Any Given Sundae.  I promise, it will leave you hungry for more." ~ Jill Thomas, Just Around the Writer's Block
"I really like this book! Elizabeth was a shy, brainy-yack in high school & Rob was the popular jock. Almost ten years later they are thrown together when their uncles leave them for the summer to run "Tutti Frutti" ice cream shop. Rob is a successful restaurant owner in Chicago and has to return to his small hometown to help run the ice cream store.  Poor Elizabeth! Can you imagine having to work with someone you had a crush on in high school! I loved that Elizabeth would stutter when she was nervous. You could understand why she was quiet & shy. Her friends were such characters and I loved how they pitched in to help run the shop! Great read! I have Ms Brant's new book "Double Dipping" on my TBR list and I am sure I won't be disappointed!" ~ Candy M, So Little Time…
Friday Mornings at Nine
"Brant's sophomore effort is a brilliant character study of three very different women each asking the question we all wonder about sooner or later: did we make the right choices during our journey and if not, what steps do we need to take in order to live our best life?" ~ Leah Eggleston Krygowski, Manchester Books Examiner & Chicklit Club review, 8/10 rating
"Friday Mornings at Nine is the perfect example of a book by an author whose writing just gets better and better. In her second book, Marilyn Brant's prose is superb…" ~ Pamela Kramer, Chicago Fiction Examiner
"Marilyn Brant masterfully writes on the intricacy of female friendship in a carefully crafted, entertaining and yet philosophical look at love, marriage and family. In Friday Mornings at Nine, we're dropped into an inner circle of three women who have spent years forging their bonds of trust — but still remain skeptical of opening their hearts too much. Who hasn't felt that way? That our inner lives are something to be guarded, something to be protected, even with close friends? That's what struck me most about this novel: how well Brant understands the complexity of women… Fans of women's fiction shouldn't miss this novel full of wonderful insights into our friendship and family, people and topics always at the forefront of our minds. I was so pleased with the way this one turned out and highly recommend it and Brant's debut novel, According to Jane." ~ Megan Snider, Write Meg reviewer, 4.25 Stars
"Welcome to the world of Friday Mornings at Nine, the most cunningly disguised self-help book on planet Earth.  But before you run screaming from the bookstore, desperately afraid that someone might actually catch you reading a self-help book, take a moment to soak this in: this novel will drag you in, whether you're open and willing, kicking and screaming, politely interested, or coolly unmotivated.  Read it. … With each page turn, with each brief glimpse into the lives of these lonely females, I found myself more and more captivated by their predicaments.  Each marital problem is different than the others but still circles around the same key issue: the lack of solid a relationship with the self.  Marilyn Brant, author of According to Jane, spins an engaging story around the concept Polonius described so simply, "To thine own self, be true."  …Ms. Brant's style is charming, full of wit and humor, and she positively brims with quotable advice for couples.  Even if your relationship is all sunshine and lollipops, a trip through the lives of these women and their subsequent spouses is an education, and will bring you nothing but good things." ~ Shelley DeWees, Austenprose guest reviewer, 4 Stars
"Emotionally packed, it's hard to put down… What intrigued me most was this book was as much about friendship as it was about what goes on behind the closed doors of marriage. Does anyone really know someone? Do we even know ourselves? Will we have the courage to go after what we want when presented with the options? This isn't a book about infidelity, and the author was very careful not to go that route or cross that line. A highly recommended women's fiction read." ~ Kelly Moran, award-winning author and book reviewer
"If you like your novel with more substance, you will enjoy this one, if you like family drama this is right up your alley, if you like exhibiting emotions while you read be prepared to run the gamut on this one." ~Debbie Haupt, moderator, B&N General Fiction Book Club & The Reading Frenzy
"You'll appreciate this author's serious thought and consideration to this topic… She went all out in making sure we, the readers, would have the full story and in the end we were left to accept the decisions of these women without any prejudices and judgments. Now, that I call some crafty writing! If you like well written contemporary stories, with lots of humor and plenty of reality, this one's for you. I'd say if it comes to 'Fifty Shades of Gray' and this one, skip the 'Shades'. You'll be glad you did!" ~Melanie, Bookworm2Bookworm
"This book was a delightful little read. …One thing I enjoyed most was that this book was real. It wasn't a bunch of fudge."~Rebecca, Beck's Book Picks, 4 Butterflies
"An honest telling of the feelings reflected when faced with temptation and uncertainty.  Each of the characters are realistic and I think you can easily find one that you relate to. I thought this was another  wonderful read from Marilyn Brant." ~Emily, Single Titles Reviews, 4.5 Stars
"Ms. Brant allows the reader to feel like they're directly observing each character's life, as if we were all in the same room. She also has terrific use of description, which carries this story along and adds to the realistic feel altogether." ~Melissa Amster, Chick Lit Central
"I enjoyed the layout of the book, a third person perspective alternating between coffee house chapters with the three together, linked by chapters focusing on each individual's plot. Though I could imagine some of the dangers of their direction of their thoughts, I did not anticipate the effects that their individual explorations would have on their friendship, pushing them apart, rather than pulling them together. It was interesting to see the twists and turns in each of the women's plots and considering how their situations were similar and different. Each of the plot lines were well developed, and through the three a variety of reactions, responses, and relationships were explored. The book would be great paired up with Emily Giffin's Love the One You're With… It is interesting to think about the books [According to Jane and Friday Mornings at Nine] as complementing each other, each providing a lens of understanding in relation to different phases of women's lives." ~Mrs. V, In Search of Balance
"Readers will sympathize with women who feel stuck in their lives and don't know what to do next…" ~October 2010, Romantic Times BOOKreviews

"This book was great from beginning to end. I loved the three ladies (and the men in their lives) and their journey through the fall/winter. This is the perfect book to read while wrapped up in a blanket by fire (or on the beach). Without giving away too much, I am so happy where all three ladies ended up at the end of the book. Even though they are experiencing the same issue at different points of their marriage/family and end up making completely different choices from each other, the book has you wanting more until the very end. Oh how I wish I had a Friday morning coffee group! I highly recommend this book and can't wait to read other books by Marilyn Brant.  I bought her first book, According to Jane over the holidays and can't wait to start reading it." ~Jilleen Hays, Seaside Book Nook, Must Read (10 Starfish out of 10!)
"Marilyn Brant does a fantastic job of conveying the varying dynamics and dilemmas in modern marriages. This novel isn't just a simple romance – it is thought-provoking, sensitive, and multilayered! …If you are skeptical about this novel because of the premise or because it sounds like it is about extramarital affairs – I'd recommend you still give it a chance. It is NOT about adultery and divorce. This novel is about self-identity and relationships. As with any Marilyn Brant novel this story is well-crafted, absorbing, and skillfully written!" ~ Meredith, Austenesque Reviews, 4.5 stars

"This is an engaging look at suburban moms… Character driven, readers will enjoy the coffee mommas as they travel similar yet different roads seeking seemingly elusive happiness." ~Harriet Klausner, Mainstream Fiction Reviews, 4 Stars
According to Jane
"Marilyn Brant's debut novel is proof that Jane Austen never goes out of style. This is a warm, witty and charmingly original story of a woman coming of age and finding her own happy ending–with a little help from the ultimate authority–Jane Austen herself." ~ Susan Wiggs, #1 New York Times Bestselling Author
"Entertaining, sincere, real…well, okay, that the acclaimed author, Jane Austen, speaks across the centuries to beleaguered romantic Ellie Barnett is not quite real, but it is fun. An engaging read for all who have been through the long, dark dating wars, and still believe there's sunshine, and a Mr. Darcy, at the end of the tunnel." ~ Cathy Lamb, Author of Such a Pretty Face
" 'Where were the true Darcys?' That's the burning question bookish Ellie Barnett has been asking herself since high school when handsome, charismatic Sam Blaine first captured her heart–and then broke it. In this lively, clever novel by Marilyn Brant, Ellie is accompanied along the perilous path of romance by none other than famed novelist and formidable woman Jane Austen, who, for reasons of her own, has taken up residence in Ellie's head. Ms. Brant wittily parallels the two women's difficult journey to the understanding that love has the power to transform even the most selfish of men into a 'true Darcy'. This is a must-read for Austen lovers as well as for all who believe in the possibility of a happily-ever-after ending." ~ Holly Chamberlin, Author of Tuscan Holiday

A fabulous 5 Regency Star rating from Laurel Ann at Austenprose: "What an unexpected, uplifting, and urbane debut novel! To paraphrase Jane Austen's character Lady Catherine, Marilyn Brant has given us a treasure. Granted that there are hundreds of Jane Austen inspired novels written over the years, this totally unique and original concept of Austen's ghost inhabiting and advising a modern young woman is brilliant. The play of early nineteenth-century social mores against twentieth-century culture is so droll that I laughed-out-loud several times in total recognition. Like Austen, Brant excels at characterization offering a heroine in Ellie Barnett that I could totally identify with, and a hero in Sam that is so endearingly flawed that any woman worthy of her worn out VHS copy of the 1995 Pride and Prejudice miniseries will be happy to swoon over. Subtly powerful and amusingly acerbic, you will be gently reproved into agreeing in the power of love to transform us all." A reprint of Laurel Ann's wonderful 5 Star review is posted in The Jane Austen Centre's online magazine!
Cheryl Grant at Family Circle's online magazine, "Inner Circle," called the novel "A charming book."
B&N Review selected ACCORDING TO JANE to be on "The Long List" for the week of October 13, 2009! They said the book was "Fresh, original, and lots of fun."
On January 22, 2010, John Charles of the Chicago Tribune wrote, "Brant infuses her sweetly romantic and delightfully clever tale with just the right dash of Austen-esque wit."
And many thanks to Buzzle.com for including ACCORDING TO JANE on their list of the 100 Best Romance Novels of All Time!
I was thrilled to find out that ACCORDING TO JANE hit #1 on Amazon Kindle's Top 100 Paid Bestseller List — very exciting!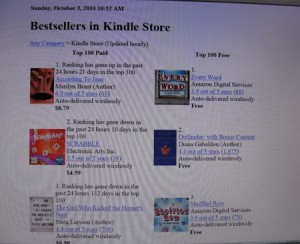 2009 and 2010 brought in some AWESOME reviews, and my debut novel even made it onto Pop Syndicate's "Best of 2009: Books" — thanks to reviewer Margay Leah Justice :-).
It was mentioned on Library Journal's list of debut novels in their article "Falling Into Bounty"! They used these words to describe the offerings this fall: "Poignant. Imaginative. Passionate. Original." I was delighted mine was included on their list.
It won the GDRWA's Booksellers' Best Award for "Best Single Title," which was thrilling!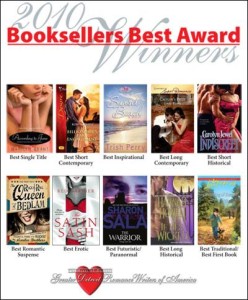 It won the Heart of Denver's 2010 Aspen Gold Reader's Choice Award for "Best Single Title"!
A Winner of the 2009 Single Titles Reviewers' Choice Award!!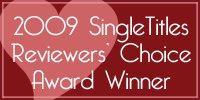 A Double Finalist in the Booksellers' Best Awards (2010) for both "Best First Book" and "Best Single Title/Mainstream Novel" — yay!!
A Finalist in ACRA's Heart of Excellence Readers' Choice Awards (2010) in the "Strong Romantic Elements" category.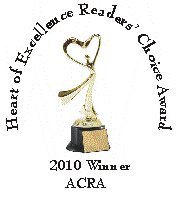 A Finalist in the Golden Quill Awards (2010) for "Best First Book," too.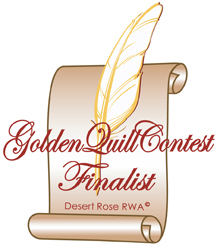 Romantic Times called it "a pleasant read."
Emily at Single Titles gave the story 4.5 Stars and said, "Marilyn Brant has written a spellbinding tale with enjoyable characters and hilarious story telling capabilities… A wonderful first book for Marilyn Brant. I am sure we will be seeing her name over the years attached to more wonderful books."
Then, Pat at A Romance Review gave it 5 Roses and wrote,"What a great book."
Babs from The World of Book Reviews gave it 5 Cups: "Now this is a story that will keep you hooked till the very end… This is one book I have to say is a MUST READ."
5 Stars from author & reviewer Kelly Moran with Bookpleasures: "Admittedly, I thought this was a peculiar premise for a book, but after reading it, in fact after page one, I can't think of enough positive adjectives to throw at it that could possibly give it justice. Told in first-person, this book jumps past and present smoothly, with an equal mix of sweet, funny, and heart-breaking. And, may I add, several 'ahh' moments… The plot flowed well without any dead spots. The secondary characters were endearing and the setting perfect. Mostly, Jane Austen fans will revel in this modern day unique twist on a classic, as well as learning interesting facts about Jane herself. There is just enough mystery of 'why' to keep you guessing, and the ending is thoroughly satisfying. This was a truly, irrevocably inspiring novel."
A 4 Cup rating from Coffee Time Romance!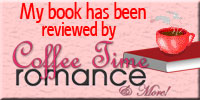 An exciting 5 Stars from Cheryl's Book Nook: "I absolutely loved According to Jane. Marilyn Brant out did herself with this debut novel. I read this book in only a matter of a few hours. Ellie and Jane had me spellbound. I kept finding myself smiling and laughing. Forget the Jane Austen you know…this Jane is hip, fresh and sassy. She says it like it is. It was great to see Ellie blossom from a young girl into a beautiful woman. Fans of Jane Austen will fall for Ellie in According to Jane. According to Jane is a pleasure read and it belongs on everyone's shelf."
A 4 Star review from Harriet Klausner: "Just when you think Jane Austen could not appear in anything new, a refreshing reincarnation occurs as Marilyn Brant provides an engaging modern day take on the writer. Ellie is a terrific lead character as she adapts to the voice in her head while Sam is her nemesis…readers will thoroughly enjoy this fun contemporary romance that also provides insight into Jane Austen and her characters."
A 5 Star review from Carrie at The Book Girl: "This book will definitely be on my top ten list for this year… I think EVERYONE should read this book."
A 4.5 Star rating from reviewer Ivy D. at Manic Readers: "According To Jane is a delight from beginning to end…a definite keeper that I can see myself returning to time and again, just for the happy pick me up feeling it gives me. I'm eagerly looking forward to Ms. Brant's next book."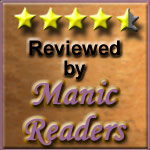 An enthusiastic 5 Star rating from reviewer Brande at Book Junkie: "All I can say is, again without any spoilers is that Marilyn Brant you have a new super fan and I am singing your praises…5 STARS–LOVED IT! COULDN'T PUT IT DOWN."
And a lovely 5 Shoes/Best Book rating from reviewer Willow at Working Girl Reviews: "According to Jane is an intriguing, appealing story full of warmth and wit…a fast read, perfect for the busy woman and the author has a definite gift for keeping you turning those pages. This is a book you don't want to miss if you're a fan of Austen, romance, coming of age, women's fiction, or if you're just looking for a highly entertaining story from an author with superb style and fresh voice."
A "Fresh Pick" from Fresh Fiction!!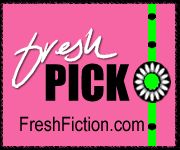 "It's not what you look at that matters, it's what you see." ~Henry David Thoreau