Enjoy Marilyn's Contemporary & Lighthearted Mirabelle Harbor Romances – The Complete Series!!
A Note to Readers on the Chronology: The entire Mirabelle Harbor series takes place over roughly a two-year time frame. Each book listed below can be read as a standalone story.
Year One:
Take a Chance on Me (Chance & Nia) – April/May
The One That I Want (Julia & Dane) – June/July/August
Stranger on the Shore (Marianna & Gil) – June/July/August
You Give Love a Bad Name (Blake & Vicky) – September/October
Year Two:
Going for It/Mirabelle Harbor Bonus Novella (Trevor & Tina Marie) – June
One Night Love Affair (Sharlene & Declan) – July
Rocket Man/Coming Home (Abby & Rick) – October
Someone Like You/Coming Home (Chandler & Jaleina) – December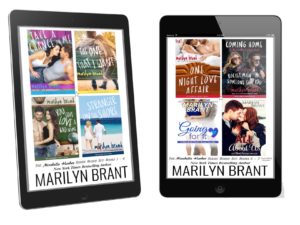 **Now Available: MIRABELLE HARBOR SERIES Boxed Sets!!
Books 1 – 4 (in box one) and Books 5 – 7 plus bonus romance (in box two). Find direct vendor links at the bottom of this page. Buy the entire story collection at a discount & enjoy!**
TAKE A CHANCE ON ME (July 18, 2015) – stand-alone novella, Book 1 – Chance & Nia's story
Twelfth Night Publishing, ISBN (ebook) 978-0-9961178-2-1 & (print) 978-0-9961178-3-8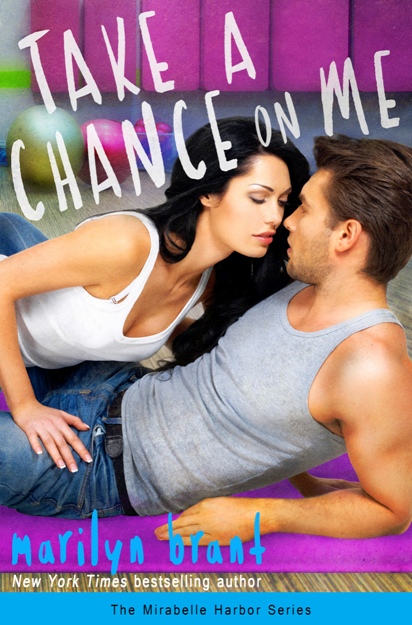 Welcome to Mirabelle Harbor!

In this scenic suburb on Chicago's North Shore, overlooking the sparkling waters of Lake Michigan, the Michaelsen family has made their home for generations. Although their parents and grandparents are now gone, siblings Derek, Blake, Sharlene, and the twins—Chandler and Chance—all have fond memories of growing up in town, and most still live there.
Chance Michaelsen, the youngest member of the family (by two minutes) and the quietest (by far), is a dedicated twenty-eight-year-old personal trainer at the local gym. While he might not say much, Chance has made it clear that he's not a fan of toxic people, unhealthy habits, or sharing too many of his emotions. With anybody.
Enter Antonia "Nia" Pappayiannis—the prettiest member of the loudest and most overly demonstrative family in town. They're also the owners of The Gala, a Greek restaurant and bakery known for its decadent pastries and located just a few steps from Chance's gym. He considers their entire family business to be the enemy of good health, but he can't quite shake his attraction to Nia, who doesn't seem nearly as impressed with him or his sculpted physique as most of the women around Mirabelle Harbor.
Unfortunately, between her doctor's orders and the interfering ways of Chance's crazy-making ex-girlfriend, who just happens to be one of Nia's long-time friends, Chance gets assigned to be Nia's fitness coach for the month. Pure torture. And if his ex weren't already causing enough problems, he also has to deal with Nia's current boyfriend—some hotshot Chicago CEO who talks big but, in Chance's opinion, is as fake as a Styrofoam barbell.
The road to romance is going to be a rocky one, and though Nia has her doubts about moving forward, Chance has a well-developed competitive streak and might just be willing to give it a shot…if he can convince her to do the same.
In matters of the heart, would you risk it all? TAKE A CHANCE ON ME, a Mirabelle Harbor story.
~*~
THE ONE THAT I WANT (July 26, 2015) – stand-alone novel, Book 2 – Julia's story
Twelfth Night Publishing, ISBN (ebook) 978-0-9961178-0-7 & (print) 978-0-9961178-1-4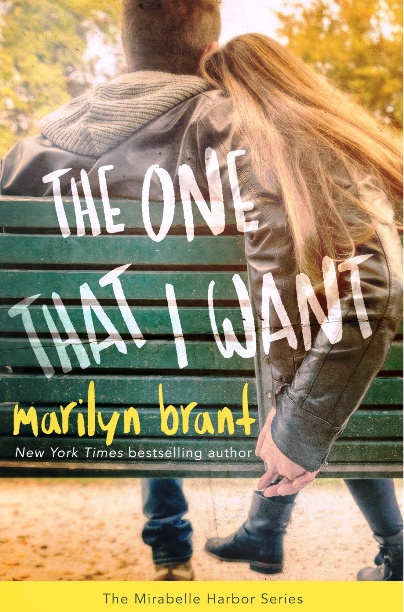 The summer after her beloved husband died in a car accident, Julia Meriwether Crane is still picking up the pieces of her life in Mirabelle Harbor and trying to help her ten-year-old daughter adjust to this difficult new reality.
After her best friend Sharlene—one of the well-connected Michaelsen siblings—talks her into finally going out on the town again, Julia finds herself stunned to be the object of interest of several different men: The boy who'd broken her heart back in high school. The college ex she'd left behind. And most surprising of all, the movie actor she'd always fantasized about but had never met in person…until now. Can one woman have more than one "great love" in the same lifetime? And, if so, how can she be sure which man that'll be?
Sometimes the person you think will be best for you isn't the one you really want. THE ONE THAT I WANT, a Mirabelle Harbor story.
PAPERBACK AVAILABLE HERE!!
Check out the EXCERPT!
~*~
YOU GIVE LOVE A BAD NAME (January 24, 2016) – stand-alone novel, Book 3 – Blake & Vicky's story
Twelfth Night Publishing, ISBN (ebook) 978-0-9961178-4-5 & (print) 978-0-9961178-5-2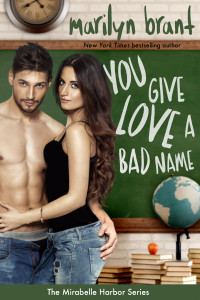 "Nothing but love, 24/7" is the slogan of Mirabelle Harbor's only radio station, 102.5 "LOVE" FM. About to turn thirty-five, local DJ Blake Michaelsen is well-known for several reasons: his very sexy on-air voice, his omnipresent family, his eligible bachelor status, and his reputation as one of the most impulsive men in Chicago's northern suburbs.
High-school French teacher and lifelong romantic Vicky Bernier is not at all wild about people who exhibit reckless conduct. (Blake.) Or men who have gigantic egos. (Blake.) Or grownups who still act like teenagers. (Blake, again.) She deals with enough adolescent behavior during the school day. Unfortunately, she's the staff advisor to the Homecoming Committee, and they've chosen him as their DJ for the big fall dance.
What happens when a man whose job it is to play love songs for a living is forced to admit his deepest secret—that he doesn't believe in true love—only to discover that the one woman who might capture his heart is the same woman who distrusts him the most?
No matter what you call it, with love there's an exception to every rule. YOU GIVE LOVE A BAD NAME, a Mirabelle Harbor story.
PAPERBACK AVAILABLE HERE!!
Check out the EXCERPT!

*
*
~*~
STRANGER ON THE SHORE (June 26, 2016) – stand-alone novel, Book 4 – Marianna's story
Twelfth Night Publishing, ISBN (ebook) 978-0-9961178-6-9 & (print) 978-0-9961178-7-6
On the verge of turning forty and having just lost her job, Marianna Gregory flees Mirabelle Harbor for the summer with little more than a suitcase, her beat-up car, and the blessings of her good friend Olivia Michaelsen. Her ex-husband is living a new life in California. Her college-aged daughter is spending her vacation with her boyfriend in Michigan. And the house Marianna once called her own finally sold, so she has nowhere to live in Illinois now anyway.
However, her wealthy sister Ellen owns an empty bungalow on the beach in Sarasota, Florida, so Marianna turns to the sea for a chance to go shelling, regroup, and figure out what to do with this new chapter in her life. She doesn't bargain on having to face down several family crises while she's away, nor does she count on meeting a handsome beachcomber who bears a striking resemblance to Elvis. Just as surprising is the craft project she gets roped into volunteering for and the new group of friends who might just change the way she views the world and her future.
The most unexpected gifts can be found where the land meets the sea. STRANGER ON THE SHORE, a Mirabelle Harbor story.
PAPERBACK AVAILABLE HERE!!
Check out the EXCERPT!
~*~
ONE NIGHT LOVE AFFAIR (March 2017) – stand-alone novella, Mirabelle Harbor, Book 5 – Sharlene & Declan's story
Twelfth Night Publishing, ISBN (ebook)

978-0-9983964-1-5 

& (print)

978-0-9983964-0-8



After her first marriage ended in a divorce that left her heart in tiny shreds, Sharlene Michaelsen Boyd vowed to keep her distance from men, at least emotionally. An occasional one-night stand wasn't out of the question, though, and with her closest friends hooking up with new loves, she finds herself in the mood for a little male company… Being the only sister with four brothers, not to mention the glue holding the Michaelsen family together after the death of their parents, Shar is used to being strong and in control. She's a junior high English teacher who's persuasive, personable, and who knows just about everyone in the center of Mirabelle Harbor society, including her brother Blake's super-sexy buddy, Declan Night.
As a former pro hockey player turned sportswriter and businessman, Dec has had his share of relationships, mostly meaningless, short-term flings. He always thought Blake's little sister was a hottie, but he knew she was off limits—until one Friday night when the stars aligned and the opportunity to hook up presented itself. Shar's intentions couldn't have been clearer: This was for One Night Only. But, for the first time in his life, Dec wonders if, maybe, there isn't something to be said for sticking with just one woman. Especially if that woman knows how to fulfill his every sensual fantasy.
Could one sizzling night turn into a love that has a shot at lasting forever? ONE NIGHT LOVE AFFAIR, a Mirabelle Harbor story.
PAPERBACK AVAILABLE

HERE

!!
Check out the EXCERPT! 
~*~
AND…THE FINAL BOOK IN THE SERIES:



COMING HOME: A Mirabelle Harbor Duet featuring ROCKET MAN & SOMEONE LIKE YOU (Sept. 10, 2017) – two stand-alone novellas, Book 6 – containing both Abby's story (Rocket Man) and, also, Chandler's story (Someone Like You)


Twelfth Night Publishing, 

ISBN (ebook)

978-0-9983964-2-2 

& (print) 

978-0-9983964-3-9
There's double the trouble in this romantic story pairing when ex-lovers, Abby Solinski and Chandler Michaelsen, both return to their hometown of Mirabelle Harbor, only to find that the happily ever after they thought they'd given up may, in fact, still be a possibility…just not with the person they'd expected!
ROCKET MAN
Abby had a crush on "Rocket Rick" Zimmerman way back in high school, but he was her brother's best friend and graduated a couple of years ahead of her, leaving town for an international life of top-secret, science-nerd intrigue. She didn't understand a fraction of what he did professionally, and he wasn't allowed to tell her anyway. Abby, meanwhile, meandered around the country with her then-boyfriend, Chandler, eventually winding up alone and working at a couple of part-time jobs in Florida. She'd resigned herself to being single forever and living on the sunny Gulf Coast, a thousand miles away from her Midwestern origins.
But when her parents need her help back in Mirabelle Harbor, she flies home for a week and runs into Rick again, who's back in the Chicago area for a big physics convention. Immediately, she's caught up in a surprising game of "Booster Ignition and Liftoff," where the object seems to be an answer to this scientific question: Just how fast can things heat up between them without somebody getting burned?

SOMEONE LIKE YOU
As for Chandler, he had no intention whatsoever of coming back to Mirabelle Harbor. When he and Abby broke up, he headed north on his motorcycle from Sarasota to Atlanta, and a life on the road was how he wanted to roll. But then his twin brother, Chance, goes and gets himself engaged, and the groom insists that Chandler needs to be the best man. Fine. He'll drive back for a few days, for the sake of his twin, but no one had better expect him to stay in town.  Of course, that's before he knows his dream woman—beautiful bookstore owner, Jaleina Longoria—is going to be at the wedding.
Jaleina is not only eight and a half years his senior, she's also the ex-fiancée of his eldest brother, who'd broken up with her to marry someone else years earlier. That never stopped Chandler from considering Jaleina to be his Ultimate Fantasy. Getting her to stop thinking of him as the restless teen boy he'd once been, however, is going to prove quite a challenge. Especially since the restlessness is still there, even though he's now a very passionate—and very determined—full-grown man.
Sometimes what you think you're returning to isn't what you'd really left behind. COMING HOME, a pair of Mirabelle Harbor stories.
PAPERBACK AVAILABLE

HERE

!!
Check out the

EXCERPT

! 
Hope you enjoy the exciting conclusion to the Mirabelle Harbor series!
~*~
BONUS NOVELLA:

GOING FOR IT (May 19, 2016) – stand-alone novella, Mirabelle Harbor, Book 7 – Trevor & Tina Marie's story – a crossover bonus story between Marilyn Brant's Mirabelle Harbor series and the Sapphire Falls series by Erin Nicholas 
Twelfth Night Publishing, ISBN (print)

 978-1-7218957-4-8 (also available in ebook!)
Mirabelle Harbor meets Sapphire Falls…
Journalist Trevor Cayne is working on the biggest feature story of his career, and he's on a road trip from his home in the lakeside Chicago suburb of Mirabelle Harbor to Colorado Springs to get the final details. But a quick stop to see his grandmother in Sapphire Falls threatens to derail his carefully constructed plans. Between Gram and her friends, the weather whims of Mother Nature, and the most stunning redhead he's ever laid eyes on in his life, he may not make it further than the western edge of Nebraska.
Aspiring singer-songwriter Tina Marie Moran has vowed to leave Sapphire Falls for Nashville after this week's big fireworks—she's not even waiting for the Annual Town Festival to come to an end. She's put her music dreams on hold for long enough and has no intention of postponing her plans yet again, least of all for another potentially untrustworthy man. But between her loving but meddlesome relatives and friends, a broken heart that's in desperate need of mending, and a handsome stranger who can play her body like a virtuoso lead guitarist, she may find herself engulfed in a new passion that's as strong as her love of music.
When it comes to their creative lives, both Trevor and Tina Marie know all about GOING FOR IT—but are they willing to put that same drive into what just might be the love of a lifetime?
PAPERBACK AVAILABLE HERE!
Check out the EXCERPT!
**BOXED SETS now available, too!!**



The Mirabelle Harbor Series Books 1 – 4:
    

    

    
The Mirabelle Harbor series Books 5 – 7 plus bonus romance: