ONE NIGHT LOVE AFFAIR – stand-alone novella, Mirabelle Harbor, Book 5 – Sharlene & Declan's story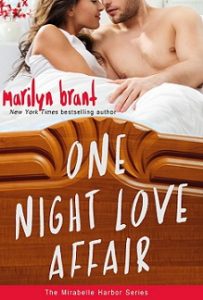 After her first marriage ended in a divorce that left her heart in tiny shreds, Sharlene Michaelsen Boyd vowed to keep her distance from men, at least emotionally. An occasional one-night stand wasn't out of the question, though, and with her closest friends hooking up with new loves, she finds herself in the mood for a little male company… Being the only sister with four brothers, not to mention the glue holding the Michaelsen family together after the death of their parents, Shar is used to being strong and in control. She's a junior high English teacher who's persuasive, personable, and who knows just about everyone in the center of Mirabelle Harbor society, including her brother Blake's super-sexy buddy, Declan Night.
As a former pro hockey player turned sportswriter and businessman, Dec has had his share of relationships, mostly meaningless, short-term flings. He always thought Blake's little sister was a hottie, but he knew she was off limits—until one Friday night when the stars aligned and the opportunity to hook up presented itself. Shar's intentions couldn't have been clearer: This was for One Night Only. But, for the first time in his life, Dec wonders if, maybe, there isn't something to be said for sticking with just one woman. Especially if that woman knows how to fulfill his every sensual fantasy.
Could one sizzling night turn into a love that has a shot at lasting forever? ONE NIGHT LOVE AFFAIR, a Mirabelle Harbor story.
PAPERBACK AVAILABLE 

HERE

!! 
Twelfth Night Publishing
Ebook & Print
Contemporary Romance
March 1, 2017
ISBN: 978-0-9983964-0-8 (paperback)
978-0-9983964-1-5 (electronic)
Story Excerpt from ONE NIGHT LOVE AFFAIR (copyright 2017 by Marilyn Brant)
The only excuse Shar could give for what she said next was that she'd had half a bottle of wine at The Lounge, one jumbo margarita and three whiskey sours here at Max's, and she hadn't gotten laid in more months than she could count. Her ability to think straight was definitely impaired and her willingness to filter her thoughts was even more limited.
"What's stopping us from sleeping together?" she asked him. "I mean, Dec—" She glanced around the room. "Aside from you, there's no one here that I'd want to pick up. You're hotter than anyone else in the bar. It's only because of Blake that I wouldn't flirt with you."
"Same here!" Dec banged the bar counter with his fist for emphasis, making their drink glasses rattle. "I would've hit on you in a heartbeat, Shar," he sort of slurred. "Because you're a seriously sexy woman. But your brother—man, he'd have my head. He told me, like four or five years ago, that he'd kick my ass if I touched you or even looked at you funny. And I believed him. So that was that. I mean—"
"Wait. Blake told you not to go near me? Not to touch me?"
"Damn right he did. Why do you think I never flirted with you? I'd already lost a couple of teeth in hockey games. I didn't wanna lose any more. Besides, I remember when you were married to that cheating scumbag and your brother practically disemboweled the guy when he found out—"
"He told you about Stephen's affair?"
Dec winced. "I kinda already knew. Sorry, Shar. Mirabelle Harbor's a small town, you know."
Yeah. She knew.
Shar sighed. Then she replayed Dec's comments in her, admittedly, fuzzy brain. "Well, you're not like my dickhead ex-husband. Blake's interference when it comes to you is ridiculous," she said, feeling the full force of indignation hitting her hard. "We can make out or hook up if we want to and not be stupid about it or get overly attached or anything." A statement that seemed to make perfect sense after multiple drinks and very few hours of sleep. "Blake can't tell us what to do. Besides, he's wrong. Just because he got his emotions all tangled up with Vicky, it doesn't mean we'll do the same."
"I know, right? The sheer illogic of it! You should've heard Trevor yakking on and on about Tina Marie this and Tina Marie that. He's just as bad as your brother. Even worse. Trev lost, like, half his vocabulary in the week after he met her. All he could say to defend himself was crazy shit like, 'It just feels right when I'm with her' and crap like that." He rolled his eyes. "And now he's probably changed team allegiances, too, and is cheering for the Nashville Predators instead of the Chicago Blackhawks. I just—just don't even recognize him anymore."
"They have no self control." Shar rested the flat of her palm on Dec's hard chest. "Mmm, very nice," she told him. "But see? I could totally resist you tomorrow." And, to demonstrate, she pulled her hand away and shrugged like it was no biggie. Weird, though, that her palm turned a little sweaty just from that brief touch… Huh. She'd ignore that.
"Of course you could," Dec agreed, slowly fingering a lock of Shar's long hair. "And I could resist you, too." He suddenly flicked away one of her ringlets. "These friends in our lives are like teenagers who're having their first high-school crush or something. No bad relationship experiences. No real perspective. Not like us."
She nodded, recalling her brother telling her about Dec's former fiancée—a nightmare—Trisha something-or-other. How their argumentative, rocky engagement hadn't even lasted six months. Shar and her ex had at least faked being a happily married couple for two years.
"They're weaklings," she concluded. "They don't know how to set limits." Although, even with the strange mist rolling around in her head, Shar didn't entirely believe her own words. She was thinking about her former self more than about her closest friends and their behavior. She'd made too many damn mistakes in the past with boundaries. She wouldn't let that happen again.
"We should show 'em how it's done," Dec suggested.
"Yeah," she said.
"Yeah," he said back. Then he studied the almost empty whiskey glass in his hand, set it down, and eyed her warily. "Sharlene, do you really mean that?"
She considered the question. Even with the many drinks, her brain all foggy, and the jetlag-induced sleep deprivation, she did mean it.
She nodded. "I do." 
Soundtrack of the Story:
My Songs Know What You Did in the Dark~Fall Out Boy
Centuries~Fall Out Boy
One Night Love Affair~Bryan Adams
Drive By~Train 
I'll Make Love to You~Boyz II Men
Die a Happy Man~Thomas Rhett
Everlong~Foo Fighters
At Last~Etta James
…and more!