YOU GIVE LOVE A BAD NAME – stand-alone novel, Mirabelle Harbor, Book 3 – Blake & Vicky's story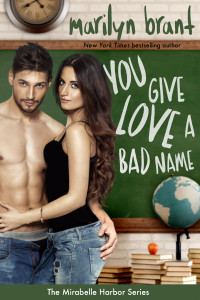 "Nothing but love, 24/7" is the slogan of Mirabelle Harbor's only radio station, 102.5 "LOVE" FM. On the verge of turning thirty-five, local DJ Blake Michaelsen is well-known for several reasons: his very sexy on-air voice, his omnipresent family, his eligible bachelor status, and his reputation as one of the most impulsive men in Chicago's northern suburbs.
High-school French teacher and lifelong romantic Vicky Bernier is not at all wild about people who exhibit reckless conduct. (Blake.) Or men who have gigantic egos. (Blake.) Or grownups who still act like teenagers. (Blake, again.) She deals with enough adolescent behavior during the school day. Unfortunately, she's the staff advisor to the Homecoming Committee, and they've chosen him as their DJ for the big fall dance.
What happens when a man whose job it is to play love songs for a living is forced to admit his deepest secret—that he doesn't believe in true love—only to discover that the one woman who might capture his heart is the same woman who distrusts him the most?
No matter what you call it, with love there's an exception to every rule. YOU GIVE LOVE A BAD NAME, a Mirabelle Harbor story.
PAPERBACK AVAILABLE HERE!!
Twelfth Night Publishing
Ebook & Print
Contemporary Romance
January 24, 2016
ISBN: 978-0-9961178-5-2 (paperback)
978-0-9961178-4-5 (electronic)
Story Excerpt from YOU GIVE LOVE A BAD NAME (copyright 2016 by Marilyn Brant)
My friends and I settled our bill and stepped outside of The Lounge just as a ruckus was getting started next door at Max's Pub.
"You asshole!" this dopey, burly, drunk guy screamed, ineffectively swinging at another drunk guy.
"You witless dickhead!" slurred the second guy. But that didn't mask his identity. As soon as he spoke, I knew who it was. Everyone did.
"Isn't that Blake Michaelsen?" Janet whispered.
"Yep," I whispered back. I'd only seen him in person once before—at a big event at the radio station this summer—and it was, literally, across a crowded room. But Blake's voice on 102.5 LOVE FM was one of the sexiest I'd ever heard. I listened to him on the radio all the time. And he was my friend Sharlene's older brother, so I knew a few additional facts about him than I might have otherwise.
Like that he was impulsive. And loud. And kind of a manwhore.
Then again, he had a rep in town, so most women knew these things, too. It was just that Shar had actually confirmed them for me.
Blake landed a decent punch and sent the other guy stumbling. But Dopey Dude got back up.
Oh, boy.
Shar was going to be so pissed when she heard about this. And she would. Probably within three minutes or less. Gossip traveled at the speed of sound in Mirabelle Harbor.
There was more yelling between the men, along with a bunch of shouts from the sports-bar crowd surrounding them. It reminded me of the stupid hall fights I'd had the misfortune to have to try to break up at the high school. Guys who fought each other because they couldn't rationally reason their way through a discussion. So foolish and immature. And, worse, so painful to the people who actually cared about these cretins.
Dopey Dude landed a crushing blow to Blake's abdomen. He doubled over and fell to the pavement. Then the other guy started to seriously pummel Blake while the crowd alternately jeered, taunted, and screamed their encouragement.
I winced. Blake's dark hair was matted against his forehead with sweat and, also, with some fresh blood. He had a gash across his cheekbones, dirt on his face and neck, and more blood dripping from the corner of his mouth.
And he was devastatingly handsome, even then.
Although, with the angry eyes and the snarl on his lips, he looked like the poster child for one the French revolutionary insurgents in Les Misérables. If he decided to build a barricade, storm the Bastille, or lead the crowd in the first verse of "Do You Hear the People Sing?" I wouldn't dare to stand in his way.
The fact that I couldn't guess whether he'd be more like a hero or a terrorist in any uprising made me immediately uncomfortable, though. I hadn't known he'd be like this. His sister could get a little fiery sometimes, but Shar had a marshmallow heart. Blake, by contrast, looked both self-destructive and vicious. Like he could quite effectively kill someone.
Finally, an officer came on the scene and broke up the fight. He ordered us all to leave, but I was rooted to the spot. I couldn't take my eyes off Blake's cut-up face. So many bruises, and he was even spitting blood.
Lisa nudged me. "Let's go, Vicky."
Before I could make my feet move, though, Blake looked up at me and our gazes collided…
Soundtrack of the Story:
Can't Fight This Feeling~REO Speedwagon
You're the Inspiration~Chicago
Funky Cold Medina~Tone Loc
Open Arms~Journey
Say You, Say Me~Lionel Richie
I Guess That's Why They Call It the Blues~Elton
Love Bites~Def Leppard
Do You Believe in Love?~Huey Lewis and the News
Magic~The Cars
Sad Songs~Elton John
Superheroes~The Script
Is This Love?~Whitesnake
Second Chance~Shinedown
Strength~The Alarm
If Today Was Your Last Day~Nickelback
Real World~Matchbox Twenty
Hurts So Good~John Cougar Mellencamp
Hold on Tight to Your Dream~ELO
Time After Time~Cyndi Lauper
We Are the Champtions~Queen
Melt with You~Modern English
You Shook Me All Night~AC/DC
Silly Love Songs~Paul McCartney and Wings
It's My Life~Bon Jovi
…and many more!