STRANGER ON THE SHORE – stand-alone novel, book 4 – Marianna's story
Twelfth Night Publishing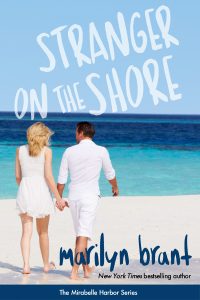 On the verge of turning forty and having just lost her job, Marianna Gregory flees Mirabelle Harbor for the summer with little more than a suitcase, her beat-up car, and the blessings of her good friend Olivia Michaelsen. Her ex-husband is living a new life in California. Her college-aged daughter is spending her vacation with her boyfriend in Michigan. And the house Marianna once called her own finally sold, so she has nowhere to live in Illinois now anyway.
However, her wealthy sister Ellen owns an empty bungalow on the beach in Sarasota, Florida, so Marianna turns to the sea for a chance to go shelling, regroup, and figure out what to do with this new chapter in her life. She doesn't bargain on having to face down several family crises while she's away, nor does she count on meeting a handsome beachcomber who bears a striking resemblance to Elvis. Just as surprising is the craft project she gets roped into volunteering for and the new group of friends who might just change the way she views the world and her future.
The most unexpected gifts can be found where the land meets the sea. STRANGER ON THE SHORE, a Mirabelle Harbor story.
PAPERBACK AVAILABLE HERE!!
Twelfth Night Publishing
Ebook & Print
Contemporary Romance
June 26, 2016
ISBN: 978-0-9961178-7-6 (paperback)
978-0-9961178-6-9 (electronic)
Story Excerpt from STRANGER ON THE SHORE (copyright 2016 by Marilyn Brant)
"Here's your key," Mr. Niihau, the elderly proprietor of the Siesta Sunset bungalows, said to me, handing over a plastic keychain in the shape of a golden nautilus with a single key on the end. "It works for the laundry room, too."
I nodded and tried not to look as unenthusiastic about the idea of doing laundry as I felt. As hard as it was selling the house and, with it, the washer and dryer that I'd scraped together enough cash to buy a year after Donny left me, I couldn't say I was going to miss the appliances all that much.
"Here are bath towels to get you started." He placed an assortment on the counter between us. "Garbage bags and a roll of paper towels." He added those and pointed in the direction of the narrow parking lot. "There should be extras of everything in your unit. Garbage pickup comes on Tuesdays. Throw your bags in the green dumpster at the end of the lot. And there's a big bin for recycling, too. Fresh towels and linens on Thursdays. Any questions?"
I inhaled and held the breath deep inside my chest for a moment. I was almost forty years old with no husband, no home of my own, and no paying job. My most pressing question was "Seriously, what am I gonna do with my life?" but I did not ask Mr. Niihau this.
"Looks like I'm all set," I told him instead. "Thank you."
He smiled kindly, the corners of his eyes crinkling even further. The sun-weathered skin had seen seven decades at least, but he looked as though if someone were to say, "Surf's up!" he'd grab his board and race them to the water. My sister Ellen had told me he was born in Hawaii and still had the heart of an Islander. Having met him now, I totally believed that.
"Your sister's unit is number twenty-six," he reminded me. "Let me know if there's anything you need during your stay."
I assured him I would and, then, meandered down the outdoor walkway. The early June humidity was so oppressive—good God! A person would be crazy to think Mirabelle Harbor was muggy by comparison. I felt wrapped in a in a tight wool blanket, the sweat being squeezed out of me, until I got to the shaded canopy of the bungalow that Ellen and her husband Jared bought as a vacation unit over a decade ago.
With the exception of a few weeks every winter, my sister and her husband didn't visit this property. They just rented it out through the year with the help of Mr. Niihau and his staff—often to an assortment of regulars and to some others, mostly families, who were looking for a place to stay on their beach holiday.
But not this summer.
For seven weeks, Ellen kept the reservation book clear for me. A gift for which I had no earthly idea how I might ever repay.
The door to unit #26 creaked as I unlocked it. I twisted the knob, pushed my way in and stepped inside a photograph.
I remembered this image exactly from a snapshot Ellen had sent one winter: A lush floral sofa with pretty buttercup throw pillows dominated the living room. A glass coffee table was parked in front of it. A small spotless kitchen was just beyond the front seating area with stainless steel appliances and a circular dining table jutting up against the main kitchen counter. A hallway could be found beyond that, with speckled tile floors throughout, an occasional throw rug and stark white walls dotted with a few small seascapes to break up the monotony.
The only difference between the photo in my memory and this room was that, in the former, my smart, successful older sister was lounging on the sofa, drinking from a 24-oz. ceramic mug of extra-strength coffee, and glancing up from her collection of work pages scattered on the glass table in front of her.
I had no such papers in my own bag, just an invisible, ever-growing list of differences between Ellen's life and mine. My sister's ability to do work while on vacation was only one of them.
My loafers click-clacked against the ceramic tiles as I strode down the hall to where the bedrooms were hidden. There were two available: One with a queen bed and one with a double. I opted for the larger of them—well, why the heck not?—and tossed my suitcase, purse, and jacket in the corner. The only items I retrieved from my bag were my flip-flops, which I slipped on after kicking off my travel loafers. Much like the way Mister Rogers changed his shoes at the start of his famous show when I was a kid, I felt the need to do the same.
I smoothed down a few wrinkles from my short-sleeve shirt and shorts and inhaled. Yes, I was about as comfortable as I could get under the circumstances. Ready to enter the Neighborhood of Make-Believe.
Soundtrack of the Story:
Fools Rush In~Elvis
But You Don't Know Me~Elvis
Clambake~Elvis…and all of his beach songs
It's the Singer, Not the Song~Survivor
Applause~Lady Gaga
One Thing Leads to Another~The Fixx
Ships~Barry Manilow
So Close~Daryl Hall & John Oates
Under Pressure~Queen
Stranger on the Shore~Patti Page
…and more!!