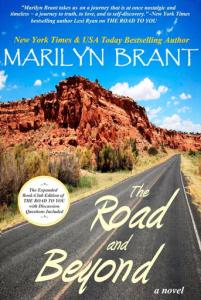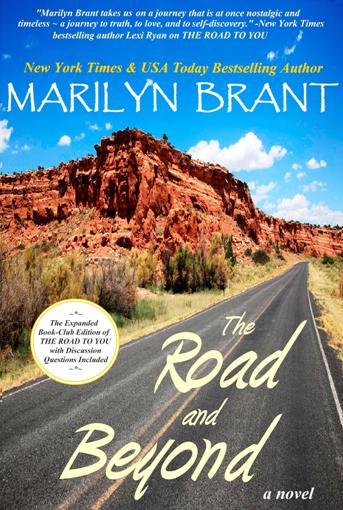 Available in ebook, paperback, and audio!!
Book Club Discussion Questions for THE ROAD AND BEYOND
The Expanded Book-Club Edition of THE ROAD TO YOU, containing not only the completed original story about teenager Aurora Gray's search for her missing brother in the 1970s, but also the brand-new present-day tale of Aurora, now a mature and married woman with two adult sons, who must confront her worst parental nightmare…
1. The reader sees Aurora at multiple ages in this story. What do you think of her as a watchful teenager? A worried mother? A mature woman reflecting back on her life? Which of her personality traits are most consistent through time?
2. What were your first impressions of Donovan McCafferty? Did your feelings for him remain constant or change over the course of the novel? What did you think of his relationship with Aurora?
3. Did you guess the fate of Aurora and Donovan's siblings—Gideon and Jeremy? Which segments of the plot involving these two young men most surprised you?
4. What did you think of the parallel story structure? Was it easy to follow the different narrative threads and understand how Aurora's memories from the 1970s impacted her perspective on the present?
5. Could you sympathize with Aurora's approach as a mother in trying to find her son Charlie? If you learned your adult child was missing, what would you do? Which steps would you take first?
6. Which scenes—in either time period, or in both—were most poignant for you? Were there any that struck you as humorous? Anxiety-provoking? Surprising?
7. Were you satisfied by the story's conclusion? What did you think of the sections labeled "Aurora's Notes" at the beginning and the end of the book?
8. How do our childhood experiences influence the way we view difficult situations when we're older? Do you have a powerful experience from your past that you feel has shaped your worldview significantly more than most?
9. Did the pop-culture references from the 1970s resonate with you? Were you alive during that era and, if so, do you have any strong recollections from the decade? How has our increased technology through the years impacted our ability to find out information and/or communicate with those closest to us?
10. Have you ever traveled along any part of the famous Route 66? If so, was there a stop you made that you found unusually enjoyable or, conversely, unpleasant? What was it about the place that made it so memorable?
**Check out the ROUTE 66 ROAD TRIP pictures

HERE

!!**
"Not all those who wander are lost." ~J.R.R. Tolkien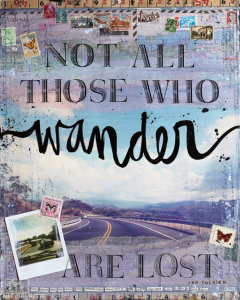 My favorite Mae Chevrette artistic creation — I have a copy of this lovely poster in my office.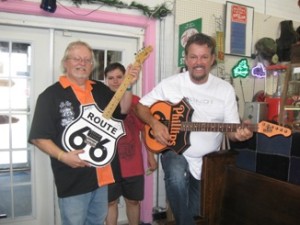 And a photo of Joe from Project Route 66 (left), as well as country musician Jess McEntire of Mother Road Music (right), who designed that cool Route 66 guitar!