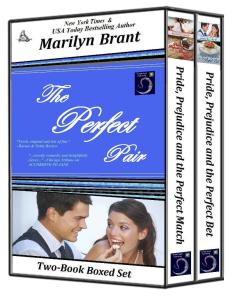 THE PERFECT PAIR of Austen-Inspired Modern Romantic Comedies!
A boxed set containing a pair of fast-paced romantic comedies with a nod to Jane Austen, both written by New York Times & USA Today bestselling author Marilyn Brant! These two light contemporary romances — Pride, Prejudice and the Perfect Match & Pride, Prejudice and the Perfect Bet — are companion novels but they can be enjoyed as stand-alone stories.
***
Pride, Prejudice and the Perfect Match:
A single mother and an ER doctor meet on an Internet dating site—each for reasons that have little to do with finding their perfect match—in this modern, Austen-inspired story. It's a tribute to the power of both "pride" and "prejudice" in bringing two people romantically together, despite their mutual insistence that they should stay apart…
Would an Elizabeth Bennet by any other name be as appealing to a Darcy?
Beth Ann Bennet isn't looking for love. She's an aspiring social worker using an online alias to study sex-role stereotypes. Dr. William Darcy isn't looking for love either. He's just trying to fund his new clinic by winning a major bet. Both think Lady Catherine's Love Match Website will help them get what they want—fast, easy and without endangering their hearts. Both are in for a big surprise.
Pride, Prejudice and the Perfect Match…where true love is just a fib and a click away.
***
Pride, Prejudice and the Perfect Bet:
The course of true love doesn't always run smooth — not even for millionaire bachelors…
Everyone thought Beth Ann Bennet and Dr. Will Darcy had an unexpected romance in Pride, Prejudice and the Perfect Match. Now, Beth's best friend, Jane Henderson, and Will's first cousin, Bingley McNamara, begin their own unlikely love story in Pride, Prejudice and the Perfect Bet, which starts at the Darcy/Bennet wedding when they find themselves in the roles of maid of honor and best man for the newlyweds.
Jane is an interning school psychologist and a woman who wears an angelic mask in public, but she's not as sweet tempered as she'd like everyone to believe. Turns out, she may have just crossed paths with the one person who'll unnerve her enough to get her to reveal her true self.
As for Bingley, he's a wealthy, flirtatious and compulsively social guru of finance, who likes to wager on stocks and, let's face it, on just about anything that strikes his fancy. But this dedicated ladies' man may have finally met the woman who'll challenge his bachelor ways!
Pride, Prejudice and the Perfect Bet…where life's biggest gamble is the game of love.
Twelfth Night Publishing
Ebook Exclusive
Contemporary Romance Boxed Set
December 1, 2014
ISBN: 978-1-3102-1446-2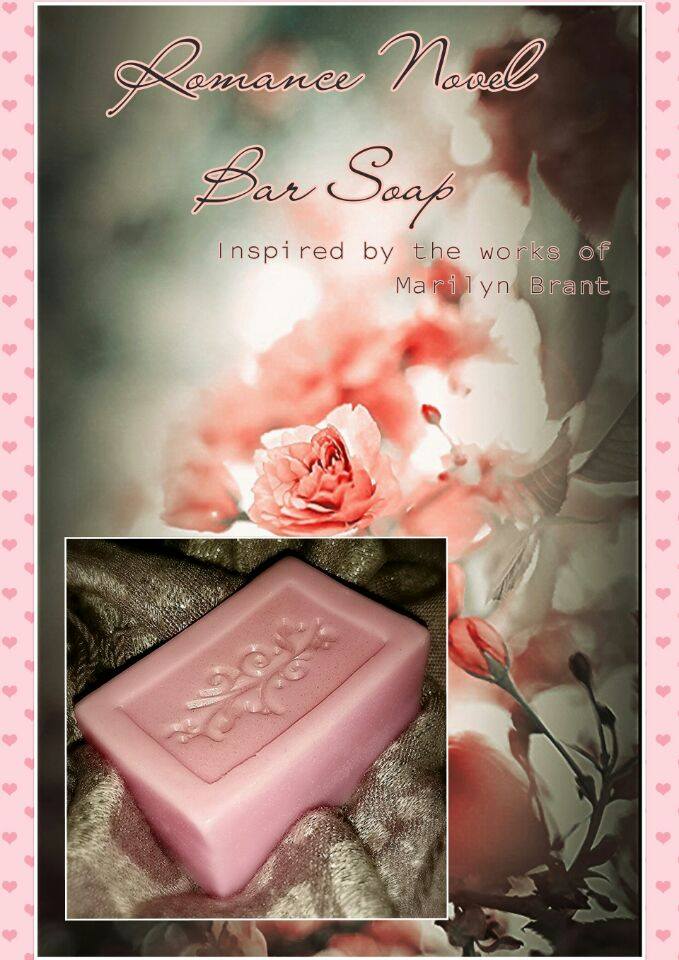 I got a real treat when the talented Evie Cotton made a special ROMANCE NOVEL BAR SOAP that was inspired by my contemporary Austen romances! She writes:
"A good romance novel is emotionally satisfying with an optimistic ending. It is smart, fresh and diverse. The author takes readers on a journey. They find themselves transported. The feelings, emotions, thoughts, beliefs and internal responses of one of the characters becomes their own. A love lost by a central character can touch readers so deeply that they feel as if the loss were their own, heart aching with despair.
I have been very fortunate to have the opportunity to get to know several authors of Jane Austen Inspired Fiction, a genre of Romantic Fiction that holds a special place in my heart. One such author is Marilyn Brant. Marilyn's writing encompasses all of the attributes listed above. She takes readers on a roller coaster ride of emotions ending with the blissful joy of finally connecting with that "one." Readers are often elevated to a state of ecstasy! It is no wonder that she is a New York Times & USA Today bestselling author. My Romance Novel Bar Soap takes you on a journey similar to that of a good novel. As the soft silky soap glides over your wet skin, a beautiful feminine blend of jasmine and rose with melon, musk and blond woods wafts up to your nose, igniting a seductive passion. Marilyn Brant, this soap is for you!"
It's an absolutely heavenly soap… Just take a peek at the loveliness!! Thank you so much, Evie. 🙂