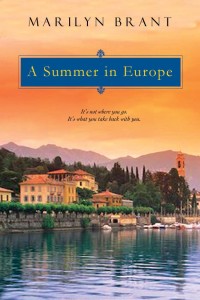 Book Club Discussion Questions for A SUMMER IN EUROPE:
**A Literary Guild, BOMC2 & Rhapsody Book Club Featured Alternate Selection for December 2011**
SPECIAL BOOK CLUB FEATURES:
Click on the links to read the Goodreads December 2011 Newsletter — I was invited to participate in their popular "Good Minds Suggest" feature, offering some recommendations of favorite books to give to romantics…
And Jakki of Leatherbound Reviews posted a wonderful "vlog" for A Summer in Europe — I loved it! You can watch it HERE!
Finally, you can also watch as bestselling author Susan McBride discusses my novel on her visit to the TV show "Great Day St. Louis" — the link to the video clip is right HERE!!