THE ONE THAT I WANT – stand-alone novel, Mirabelle Harbor, Book 2 – Julia's story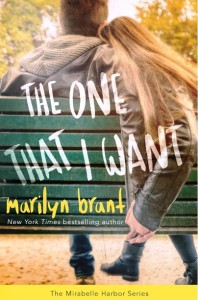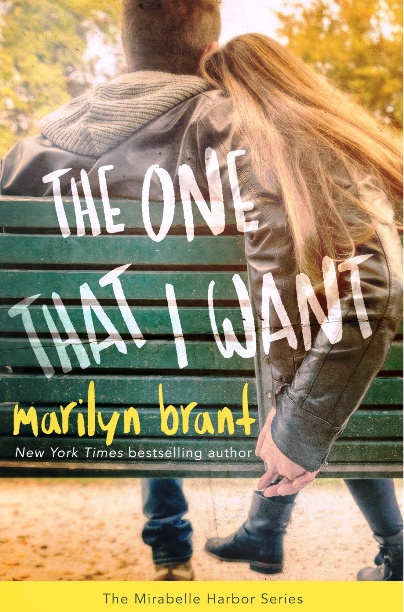 The summer after her beloved husband died in a car accident, Julia Meriwether Crane is still picking up the pieces of her life in Mirabelle Harbor and trying to help her ten-year-old daughter adjust to this difficult new reality.
After her best friend Sharlene—one of the well-connected Michaelsen siblings—talks her into finally going out on the town again, Julia finds herself stunned to be the object of interest of several different men: The boy who'd broken her heart back in high school. The college ex she'd left behind. And most surprising of all, the movie actor she'd always fantasized about but had never met in person…until now. Can one woman have more than one "great love" in the same lifetime? And, if so, how can she be sure which man that'll be?
Sometimes the person you think will be best for you isn't the one you really want. THE ONE THAT I WANT, a Mirabelle Harbor story.
PAPERBACK AVAILABLE HERE!!
Twelfth Night Publishing
Ebook & Print
Contemporary Romance
July 26, 2015
ISBN: 978-0-9961178-1-4 (paperback)
978-0-9961178-0-7 (electronic)
Story Excerpt from THE ONE THAT I WANT (copyright 2015 by Marilyn Brant)
With the exception of my best friend Shar, the others had gone back to their conversations so, thankfully, I didn't have too many people witnessing my fumbles with setting up a (sort-of) date for the first time in twelve years. It was awkward, but I agreed to coffee and gave Kristopher my phone number, which he dutifully punched into his cell so we could arrange a time and day to meet later.
Shar nudged me when he wasn't looking and whispered, "See? Not so hard, is it?"
I made a face at her and shrugged.
Finally, the party was beginning to break up. I was mentally congratulating myself on making it through the evening when the very sweet, well-dressed woman—Elsie was her name—wolf whistled. "Wait, people!"
Everyone halted.
"I've been wanting to tell you this good news all night." She paused for effect. "You know my friend Rosemary, the one who works at the Knightsbridge Theater in the city, right?"
Most of the group nodded, seeming to have met Elsie's friend or, at least, heard about her.
"There's a dress rehearsal for their upcoming summer production, 'The Bachelor Pad,' this Thursday at six-thirty in the evening, in advance of next Friday's Opening Night," Elsie said. "And Rosemary reserved a block of seats for us."
Despite the noise in the wine bar, an audible spike in sound came on the heels of those words, and a couple of the women actually squealed.
I squinted at them. I mean, tickets to a play were always nice, but wasn't this taking theatrical enthusiasm a bit far?
"But that's not all," Elsie continued enthusiastically. "Rosemary also got us passes to meet the cast, just as she did for that steampunk musical last year—"
"Steampunk musical?" I hissed in Shar's ear.
She nodded. "It was bizarre. Tell you more about it later."
I grinned and brought my glass of wine to my lips, draining it of its final swallow.
"—including a special Q&A session with the director, Zachary Leeward," Elsie added, "and with the star of the show, Dane Tyler."
I choked on the last drops of merlot, coughing so hard that Bill reached across the table to hand me a fresh glass of ice water, Shar patted me on the back, and everyone else stared at me worriedly. Except for Kristopher. He shot me a knowing look.
Yeah, of course he'd remember that.
"Are you okay?" Elsie asked me.
I gulped down half the water. Oh, God. Of all the actors on the planet—Dane Tyler. Here? REALLY?
My teen world had just materialized out of thin air, like that freaky phantom ship that came from absolutely nowhere in Pirates of the Caribbean. My gut twisted weirdly, and I could barely breathe. "P-Please go on," I managed to whisper.
She smiled. "So, if any of you want to go to the performance, and I know you do, let me know now, and I'll email the list of names to Rosemary in the morning."
Elsie was right. With the exception of one accountant guy, who had an out-of-town business trip next week, and a very disappointed single mom, whose kid was playing in a baseball tournament Thursday night, everyone else signed up to go.
Including me, at Shar's insistence. And including Kristopher.
My old high-school boyfriend leaned over the table and said with a laugh, "Well, isn't that something? Maybe, if you ask him real nice, he'll recite your favorite lines from your favorite movie to you."
"Ha," I said weakly.
"Which lines? Which movie?" Shar asked.
Before I could reply, Elise jumped in and pointed to Shar and then me. "You two want to ride down with me?"
Shar answered for both of us. "Oh, yeah!"
Although I managed to stop tripping over my own tongue and was able to thank the kind woman, I didn't succeed in making more than a few last bits of small talk. All I could do was blush furiously and think to myself, in the fevered squeaking of an adolescent schoolgirl, OMG, I'm finally going to see Dane Tyler in person! Maybe even talk to him!
In just one evening, three distinct memories of men from my past played out like a warped summertime version of A Christmas Carol in my mind. Haunting memories of relationships that I'd had or had lost or had wanted—sometimes simultaneously and always more powerfully than I'd expected—were reeling through my brain on a continuous loop, braiding my emotions with the mental film footage.
Before my best friend could ask me any more questions I didn't want to answer, I hugged her goodnight and raced into the evening, forgetting until my feet hit the pavement and I collapsed into the driver's seat of my car that I wasn't, in fact, lost in time.
That I wasn't living out some high-school fantasy.
That I wasn't a vulnerable young woman, helpless in the face of fate.
I started the engine, replayed those last three thoughts again, and shook my head.
Like hell I wasn't.
Soundtrack of the Story:
Keep on Lovin' You~REO Speedwagon
When Can I See You Again?~Owl City
I'll Never Break Your Heart~Backstreet Boys
Every Rose Has Its Thorn~Poison
Here I Go Again~Whitesnake
The Power of Love~Celine Dion
I'm Yours~Jason Mraz
…and songs by Elton John, Taylor Swift, Katy Perry, Maroon 5, Kansas, Fall Out Boy & more…