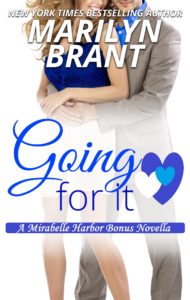 GOING FOR IT – Book #7 (a bonus romantic novella that's a crossover between my Mirabelle Harbor series and my friend Erin Nicholas's Sapphire Falls series)
Mirabelle Harbor meets Sapphire Falls…
Journalist Trevor Cayne is working on the biggest feature story of his career, and he's on a road trip from his home in the lakeside Chicago suburb of Mirabelle Harbor to Colorado Springs to get the final details. But a quick stop to see his grandmother in Sapphire Falls threatens to derail his carefully constructed plans. Between Gram and her friends, the weather whims of Mother Nature, and the most stunning redhead he's ever laid eyes on in his life, he may not make it further than the western edge of Nebraska.
Aspiring singer-songwriter Tina Marie Moran has vowed to leave Sapphire Falls for Nashville after this week's big fireworks—she's not even waiting for the Annual Town Festival to come to an end. She's put her music dreams on hold for long enough and has no intention of postponing her plans yet again, least of all for another potentially untrustworthy man. But between her loving but meddlesome relatives and friends, a broken heart that's in desperate need of mending, and a handsome stranger who can play her body like a virtuoso lead guitarist, she may find herself engulfed in a new passion that's as strong as her love of music.
When it comes to their creative lives, both Trevor and Tina Marie know all about GOING FOR IT—but are they willing to put that same drive into what just might be the love of a lifetime?
Buy the paperback HERE!
Twelfth Night Publishing
Ebook & Print

Contemporary Romance
May 19, 2016 (first edition)
July 20, 2018 (second edition)

ISBN: 978-1-7218957-4-8
Story Excerpt from GOING FOR IT (copyright 2016 by Marilyn Brant)
Trevor was biding his time.
Thankfully, the motel Tina Marie spotted had available rooms for tonight, and they were able to get two with an adjoining door. But, however clearly he might remember her passionate kiss from yesterday, he knew better than to make a move on a woman who was determined to be "just friends." She'd have to come to him first. Which meant he had to be so damn appealing that she couldn't resist. How to ensure that?
Obviously, he needed expert advice. And he knew just where to get it.
When Tina was getting settled into her motel room, he used the time to unpack, change into a dry shirt, brush his teeth and gargle (a guy's breath could never be too fresh), and text his buddy, Blake Michaelsen.
"Got a sec to answer a few questions?" he typed.
Less than fifteen seconds later, his phone buzzed. "Yeah, shoot," came his friend's reply.
Blake was a popular DJ back home in Mirabelle Harbor. He worked at 102.5 "LOVE" FM and spent most of his days—and occasionally some nights—spinning romantic hits for the masses. Let's just say, Blake hadn't been a big believer in love. At least not until he got his heart all tangled up with Vicky, the high-school French teacher. Now he was singing a different tune.
"Okay. So, there's this woman I met. She's gorgeous. Sweet. We've got amazing chemistry, and we're at a hotel tonight," Trevor began, sending this first part to Blake.
Before he could write out his question, his friend texted back, "If you're in a hotel with her, what the hell are you doing texting me? Priorities, man."
"She and I live in different cities, Blake. She says she wants to be just friends, which I hate but understand. No way could this be anything but a fling… Still, I want her. Even if it's just for tonight. How do I get her to want to stay with me while being honest about it?"
This time there was a longer pause. Finally, his buddy replied. "One word: Foreplay."
Trevor groaned. "Yeah, no shit, Blake. I'm not 14. I mean, what's the fastest, most effective kind?"
"Dancing, or any excuse you have to touch her in a socially acceptable fashion. Food, as in feeding it to her. Attentive listening, which I suck at, but Vicky tells me that's an aphrodisiac for a lot of women."
Trevor grinned. Yeah, Blake was more of a talker than a listener.
"Oh!" Blake added. "You might try a movie. Action thrillers boost adrenaline and can be a turn-on for both sexes. Just read a nonfiction bestseller about that. Check the TV listings."
There was a knock on Trevor's interior door. Tina Marie.
"Good ideas, man," he texted Blake back. "Thanks. Gotta go." Then he opened the connecting door for her and caught his breath at the sight.
Gone was the thin summer dress with the yellow translucent fabric, and in its place was a hip-hugging pair of blue jeans and a long-sleeved baby-blue shirt that caressed her chest and clung to every curve. He wanted to pull her into his arms and strip off both items, along with anything she might have on underneath. But, first, he had to convince her to say yes…
Soundtrack of the Story:
Bennie and the Jets~Elton John
Keith Urban
Lady Antebellum
Kenny Chesney
Lines Crossed (an original song by the author)
…and more!