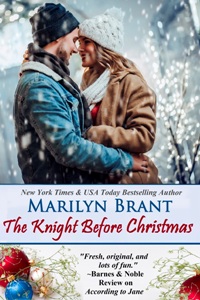 THE KNIGHT BEFORE CHRISTMAS is a light contemporary romance by New York Times & USA Today bestselling author Marilyn Brant, who also penned the award-winning and Jane Austen-inspired novels ACCORDING TO JANE and PRIDE, PREJUDICE AND THE PERFECT MATCH.
When successful building contractor Austin Knightley returns to his hometown of Crystal Corners, Minnesota after a decade away, he vows to avoid pampered and popular types like his old high-school crush Emma Westwood—the town's biggest queen bee and self-appointed matchmaker—only to get swept into a community Christmas project she's now organizing.
With nods to Jane Austen's classic novel EMMA, this modern heroine may be a little "clueless" in the Midwest, but she's got gifts to share and plenty to learn from the boy next door, who's all grown up and handsomer than ever. Even when a snowstorm threatens to derail her plans, she's determined to figure out how to set things right and save THE KNIGHT BEFORE CHRISTMAS.
This sweet and heartwarming holiday romance is a story that can be enjoyed by readers of all ages.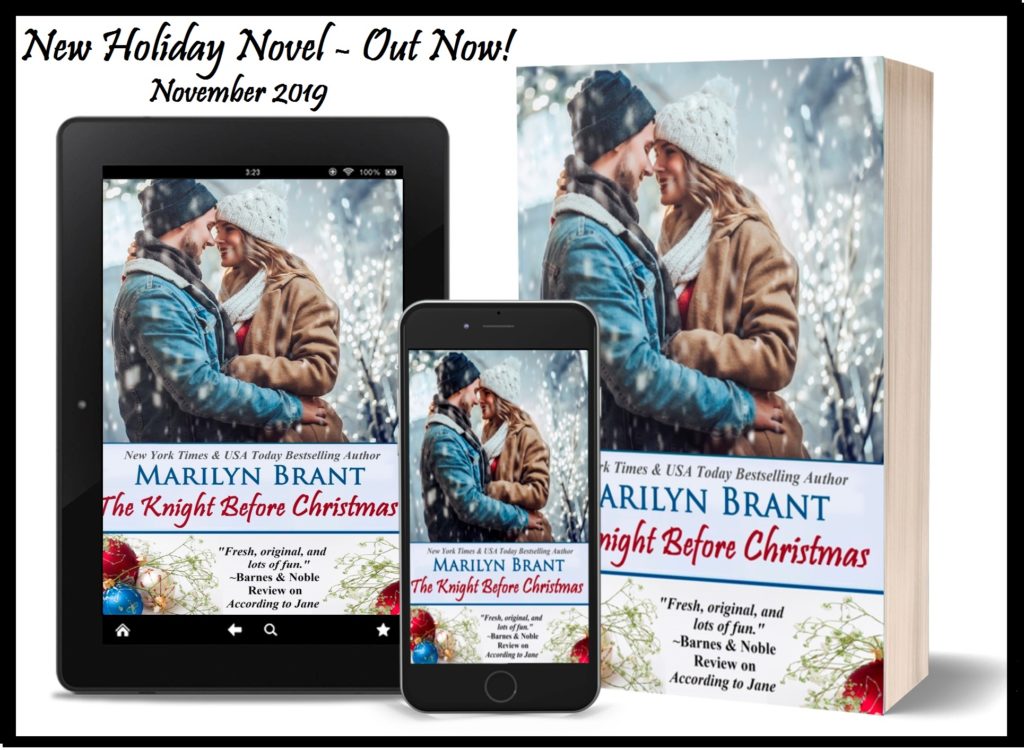 DIRECT LINK TO PAPERBACK (Amazon) HERE & (BN) HERE!
Twelfth Night Publishing
Ebook & Print
Contemporary Romance
November 1, 2019
ISBN: 978-0-9983964-9-1 (paperback)
978-0-9983964-8-4 (electronic)
Story Excerpt from THE KNIGHT BEFORE CHRISTMAS (copyright 2019 by Marilyn Brant)
Austin started checking the time every five minutes from eight thirty a.m. onward.
"Why are you so antsy, man?" his brother David asked as he got ready to take their dad to PT again. "Expecting an important phone call or something?"
"Or something," he replied, glancing at the hall clock and willing his beloved family members to leave the house, and quickly. Emma would be arriving in less than twenty minutes.
Once David and Dad were out the door, though, there was still Mom, who was lingering in the kitchen as if she knew someone was coming over. Specifically, someone female.
"Sweetheart, before I go to the grocery store, can I make some muffins or a fruit salad or anything tasty for you?"
"Oh, no, Mom, thanks. I don't need anything."
"But what if someone stops by? You'll want to be able to offer him—or her—some refreshments. At least let me brew a fresh pot of coffee."
It was now ten minutes to nine. He swallowed. "Coffee sounds like a great idea, but why don't you let me make it? It's busy at the market this time of year. You'll want to get there early to avoid the lines."
His mother raised her brows slowly. No doubt about it, she had to have guessed that something was up. Under normal circumstances, he might have copped to it already, but working on a project with Emma Westwood wasn't exactly a "normal" circumstance. It would be bad enough later when his mom, dad, and kid brother all returned and Emma was there in the house. But if any of them were hanging around to greet her upon arrival, it'd be awkward. And he didn't need this to be any more awkward than it already was.
Surprisingly, Mom didn't voice any suspicions aloud. She just kissed him on the cheek, slipped on her winter coat, and grabbed her keys and shopping list.
"I'll be back in a few hours," she told him. "Maybe a little longer if I stop at Adele's Bakery. Those sugar cookies and cocoa-caramel bars that Emma brought us were delicious. I might have to get more." She paused and smiled…almost guilelessly, but he wasn't fooled. "Be sure to thank her if you see her before I do."
"Of course," Austin managed. Four minutes to nine.
Miraculously, his mother had actually pulled out of the driveway and was down the road before Emma drove up and parked in the front, curbside.
Nine o'clock sharp.
She knocked on the door, and he forced himself to wait five full seconds before opening it.
"Good morning," she said brightly, holding up a large white paper bag containing something indistinguishable with her right hand while she waved at him with her left.
"Good morning, Emma." He invited her inside. "Thanks for parking on the street, but you didn't have to."
She laughed. "I didn't want to block the driveway." She nodded in the direction of the garage. "I'm sure your dad and brother are already at the gym. And I just saw your mom's car pull out. I imagine the three of them will come back at some point." She handed him the bag. "A snack for all of us for later. Or lunch, perhaps. I hope you like curried chicken salad on butter croissants."
He peered into the bag and was struck by her thoughtfulness—both with the parking and with the sandwiches. "Wow. Thank you. Did you make these?"
She shook her head. "No, but it's a favorite of mine, and one of Jennings's specialties."
He felt an unwelcome bolt of jealousy. "Who's Jennings?"
"He's our family's chef and the reason why I'm such a terrible cook." She gave a short, self-deprecating laugh. "I never had to learn how to make anything substantial, not with Jennings in the house. And my few attempts at baking were truly embarrassing. Between Jennings and Adele, I always have wonderful meals and desserts. I leave the tough stuff to them."
He didn't know how to respond to that. He'd never thought of Emma as being unable to do anything she might want—just that there were some things she considered beneath her. Maybe that wasn't the case, though. Maybe what he'd always pegged as Emma's damsel-in-distress act was more a crisis in confidence.
Austin motioned for her to follow him into the kitchen, where he put her offering in the fridge and offered her a mug of hot coffee, which had just finished brewing.
"Let me take your coat," he said, pleased that she was wearing a thicker one today, "and then let's grab our coffees and head downstairs to the workroom. We've got a drafting board and tools. Today's going to be all about planning and collecting materials, okay?"
"Okay." She handed him her coat and then eyed him with a slight air of nervousness. "Am I, um, dressed correctly?" she asked.
He gave her a quick once over and absorbed as many details as his eyes could take in. Her perfectly manicured fingernails, which would probably get chipped to bits when they brought back the wood this afternoon and started working on it. Her golden ringlets, not a hair of which was out of place. Her big blue eyes and rosebud lips…
Oh, c'mon, Austin. Focus on her question. The clothes.
True to her word, she was dressed in an affluent version of "play clothes and shoes" or, at least, sneakers that weren't remotely as ratty as Austin would have liked, but they were a far sight better than those pointy, ankle-breaking boots. She also had on a slightly baggy blue sweatshirt that complemented the color in her eyes and a pair of jeans that were marginally faded, although they weren't baggy at all. In fact, they fit her extremely well.
He exhaled. "Yeah. You look great," he murmured, not liking at all just how much he meant it.
"Thanks." She smiled. "All right, Austin. Coffee and then work. Let's do this!"
"Yeah, let's do this," he repeated.

Soundtrack of the Story:
Rockin' Around the Christmas Tree
Step Into Christmas
All I Want for Christmas is You
Jingle Bell Rock
Silent Night
Have a Holly Jolly Christmas
I'll Be Home for Christmas
Let It Snow
…and many, many more!
FAB TREAT: After reading THE KNIGHT BEFORE CHRISTMAS, our lovely neighbor (who's also a talented baker) surprised us with this spectacular version of Emma & Austin's Chocolate-Apricot Torte, which she'd made based on the recipe in the novel!! It was not only stunning to look at, it was absolutely delicious! XOX